With its east-meets-west aesthetic, artistic neighbourhoods and stunning natural surroundings, Helsinki is a destination that impresses on many levels.
HELSINKI
---
Helsinki is a city with many faces. A city of dark winters and summers of midnight sun. An urban metropolis surrounded by dramatic scenery. Finland has always been a country where east meets west, thanks to its position between Russia and Europe. Helsinki embodies this meeting of cultures, with its Russian orthodox cathedral, neoclassical architecture and Scandinavian design aesthetics. When it comes to art and design, Helsinki is the capital of cool. Think designer boutiques and galleries, as well as the innovative Design Museum. This aesthetic sense also extends to the architecture scene – the city boasts some cutting-edge buildings, such as the glass panelled Kiasma Museum of Contemporary Art.
Helsinki also has a dynamic wining and dining scene, with chefs reinventing local ingredients and processes to establish a New Nordic cuisine. What's more, nature is never too far away. Helsinki is located on the Baltic Sea, and during hot summers residents take to the water to go swimming and stand-up paddle-boarding, alongside other watersports. A ferry service links Helsinki to the small surrounding islands, and wilderness areas like Nuuksio National Park are just a short drive away.
Whether you're a culture buff, a foodie or a nature lover, you'll find something about Helsinki that appeals to you.
THE BUSINESS END
---
Finland has a highly industrialised economy, based predominantly on free enterprise and private ownership. The capital, Helsinki, accounts for 35 percent of the country's total GDP and 30 percent of its total employment. Finland is also a key actor in the concept of the circular economy. Looking beyond the current 'take, make, waste' industrial model, a circular economy aims to decouple economic activity from resource consumption, design waste out of the system and make society-wide benefits.
Tourism adds a value of $5 billion to the Finnish economy every year. In 2017, 6.7 million foreign tourists visited the country. Helsinki is a particularly popular destination, registering 5.3 million overnight stays in 2017. As Laura Aalto, CEO of Helsinki Marketing explains: "The positive economic situation in many of our key markets has benefitted the global tourism industry and enabled both Helsinki and Finland to post record tourism figures."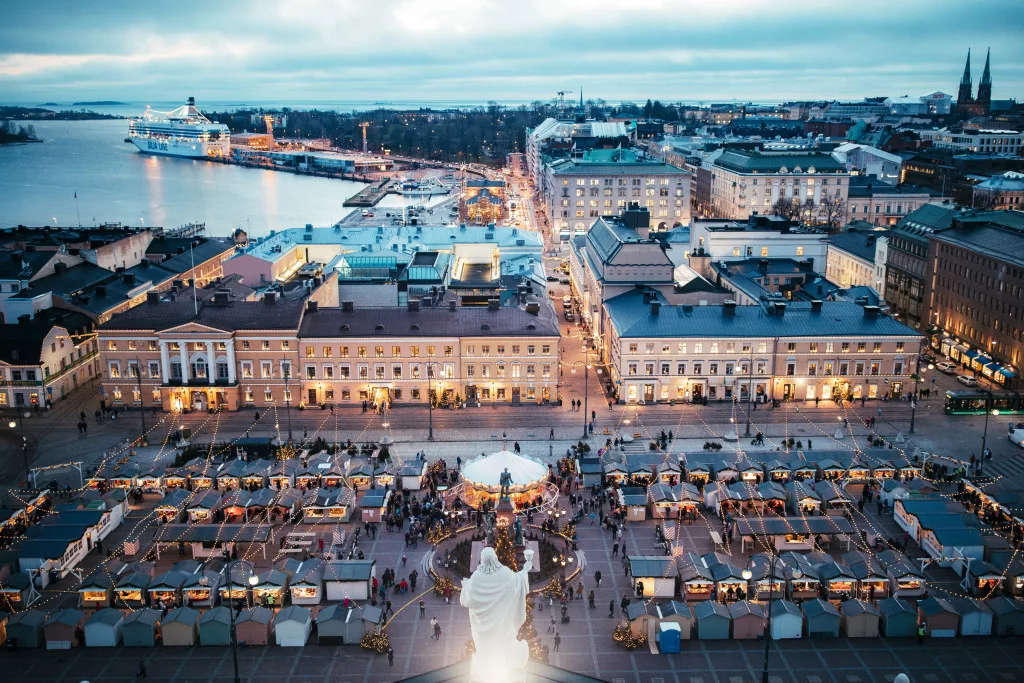 TOURISM INSIGHTS: HELSINKI MARKETING
---
Helsinki Marketing has taken many different shapes throughout the years. Initially established in 2001, as part of the tourism office, it was formerly known as Visit Helsinki. The changed name, introduced in 2017, reflects the company's scope of operation. We interviewed Leena Lassila, Head of Global Sales, about Helsinki Marketing's role with regards to its overall offering in the business travel community.
Q&A WITH LEENA LASSILA, HEAD OF GLOBAL SALES, HELSINKI MARKETING
Since inception, how has Helsinki Marketing developed and progressed in terms of its key objectives and the messages it tries to get across?
Leena Lassila (LL): Helsinki Marketing is a marketing company owned by the City of Helsinki. The scope of operations covers marketing activities related to tourism, congresses, events and business promotion, application procedures for major events and congresses, as well as tourist information services. The focus has gotten a lot clearer since our inception; to make the city better known, attractive not only to visit and host events, but also for people to live and work. Our vision is to be the world's most functional city, a place for good life and a place for solutions for the future. Of course, the aim is also to grow the destination as a city, but the focus is more on sustainable growth.
How would you say Helsinki has developed in recent years as a business travel hub and what are the key reasons behind its growing appeal?
(LL): Helsinki has attracted a lot of attention as a very functional city for congresses and meetings. The infrastructure is in very good shape and has been growing significantly in the past years. A major draw for business travel is also the flight connections to and from Asia. The startup scene in Helsinki is superb, and with events like Slush and Nordic Business Forum, the investors and local companies have great networking channels. Helsinki is like a test lab for the world's megacities. Our open data makes the information available for everyone who is interested and thus gives everyone the chance to come up with new solutions and business ideas. Lack of bureaucracy and effective funding culture have their roles in our success too.
Why, in your opinion, should someone visit Helsinki?
(LL): Helsinki is a very relaxed destination and like Finns in general, very much in touch with nature. The vast coastline and rich archipelago are unique. It's also a very cultural city. Next year will see the first edition of Helsinki Biennial; an international art event that will bring outstanding contemporary art to local maritime history. Helsinki is also a very compact city where everything you need and want to see and experience is really within your grasp. The food culture is flourishing and is becoming a reason to visit on its own. Most importantly though, Helsinki is a city where things work. Whether you are here with an event or just want to experience local life, you can count on things to run smoothly. We want to make it easy to experience Helsinki and as we are the gateway between Asia and Europe, we want to offer an easy way to extend your stay during the stopover.
Are there any specific attractions, landmarks or places to eat and drink that you would recommend?
(LL): Finland is known for its sauna culture and that you can enjoy in Helsinki. Public saunas like Löyly and Allas Sea Pool are attracting a lot of attention from visitors and media alike. Overall, Helsinki is not a very monument and attraction focused city. Sure enough we have plenty of places to visit, but we prefer our visitors to experience Helsinki like a local. The architecture, culture, archipelago, parks are all around you, so we hope that our visitors enjoy the whole experience of the city.
What trends are transforming the tourism industry in Helsinki at present? How are you responding to these trends?
(LL): Sustainability has been on everyone's lips for several years already. Helsinki has taken steps to answer the growing demand to have sustainability at the core of our city marketing plan. Our Think Sustainably service helps both locals and visitors to find sustainable options for things to see and do. The service was launched in summer 2019 and more and more venues – restaurants, café's, shops and places to visit are joining the service. Helsinki's aim is to be carbon neutral by 2035 and these are some of the steps that will help in getting there. We were the first European city to report to UN on the Sustainable Development Goals (SDG). Helsinki is conducting a constant platform for feedback for its residents and we keep analyzing the responses. So far for example the residents aren't worried about overtourism. They do see sustainability as an important issue and this we have taken into heart of our operations.
How do you see Helsinki developing as a business travel hub over the next year to two years?
(LL): Helsinki continues to develop quite fast. By the end of 2021 we should have around 3,500 additional hotel rooms in the city, which helps us to attract bigger congresses and corporate events. The value of scientific congresses goes beyond its financial effects. By inviting congresses here in Helsinki, we help the scientific community to be able to connect with colleagues all around the world. The venues are constantly improving their offerings and services. Sustainability is a fundamental aspect of their agenda. For example, the two biggest venues in Helsinki have had solar panels installed on their roofs and are producing their own electricity. The venues and hotels overall are diverse and unique. New plans will continue along the same path.
Are there any plans or projects in the pipeline that you wish to highlight?
(LL): A lot is currently going on in the region. There are plans for additional multipurpose spaces, new hotels and much more. There are new areas of Helsinki being created as we speak and there are interesting plans in those areas, but not everything is finalised.
Are you optimistic about the future of the tourism industry in Helsinki?
(LL): Very optimistic. Helsinki is a growing destination, not only in terms of population growth but with the quality of tourism. As stated before, we aren't a destination for mass tourism and aim for sustainable growth.
OUTLOOK RECOMMENDS
STAY
---
The Original Sokos Hotel Presidentti showcases Scandinavian design in an innovative way. The rooms, designed by Paola Suhonen, offer playful twists on the theme – Spend the night in a Fairytale Forest or Winter Storm room. Meanwhile, the hotel's restaurant Bistro Manu serves delicious meals made with Finnish ingredients. The hotel also boasts conference facilities, a sauna complex and a pool.
EAT
---
SAUNAS
---
PARKS
---
MYHELSINKI IN FOCUS
---
Local inhabitants believe that Helsinki isn't a city which can be captured in one phrase, as it has so many contrasting elements. Rather than having a couple of landmark attractions, there are as many ways to experience it as there are people. In response, the city has evolved its marketing to highlight the unique experiences both locals and visitors enjoy in Helsinki through a new opensource digital platform, MyHelsinki.fi. All content on the MyHelsinki.fi platform has been compiled by locals, based on genuine recommendations. No paid brand endorsements or sponsored content is allowed. One key feature is My Helsinki lists, a map of favourite places in Helsinki, which anyone can add to or share on social media.
MyHelsinki has also recently jointly developed a WeChat mini program with MaaS Global and Chinese internet service giant Tencent. There are over a billion internet users in China, many of whom use WeChat. Chinese independent travellers can now use the WeChat mobile service to review local recommendations about the best places to shop, eat and sleep in Helsinki, plan routes and pay for transportation. This program is the first of its kind in the world – it epitomises Helsinki's approach to embracing new technologies and opening up the city to tourists.
GETTING THERE AND AROUND
---
Helsinki has fantastic connections to the country and the rest of the world. Its international airport handled 21 million passengers in 2018 and is consistently voted one of the world's best airports. It is the main hub for Finnair, the national carrier of Finland, which provides direct connections to Asia, America and Europe as well as within the capital.
Finland has an excellent rail network, with many routes going via Helsinki. The Ministry of Transport and Communications has launched plans to establish the Turku One Hour Train Project Company, which will reduce journey time between Helsinki and Turku to 60 minutes. The public transport system within Helsinki is very comprehensive. With just one ticket, you have the trams, trains and buses at your disposal. You can even take local ferries to places such as Suomenlinna. Helsinki also has a pioneering app, Whim, a Mobility as a Service app (MaaS), which gives its users all city transport services in one step, letting them journey where and when they want with public transport, taxis, bikes, cars, and other options, all under a single subscription. Alongside its excellent connections, Helsinki is also a compact city that can be easily accessed on foot.