An elegant city with a great gastronomic scene, world class wines and a fantastic urban energy – what's not to love about Bordeaux?
BORDEAUX
---
An elegant city nestled into a landscape of sun-kissed vineyards, Bordeaux is a feast for the eyes and the senses. Most of the city is a UNESCO-designated site, making it the world's largest urban heritage centre. Picture broad, tree-lined avenues and elegant eighteenth-century facades; ornate fountains and honey-coloured chateaux. Marvel over the Opéra National de Bordeaux-Grand Théâtre, a neoclassical edifice of towering columns. But Bordeaux has a modern side too. Local architects are revitalising the city in new and innovative ways. La Cité du Vin is the world's largest wine museum, contained within a bold curved structure of glass and iridescent aluminium panels.
The city has an unrivalled gastronomic scene, thanks to an abundance of delicious local ingredients. It's renowned for everything from entrecôtes to cannelés – caramelised brioche-style pastries. Its reputation for delicious fresh oysters stretches back to the days of Pliny the Elder. And a trip to Bordeaux wouldn't be complete without sampling a glass of full-bodied local claret.
Bordeaux is an exciting city with unmistakable joie de vivre. Business travellers will be captivated by its traditional surroundings and energetic atmosphere.
THE BUSINESS END
---
Bordeaux is at the heart of renowned vineyards, including the fertile Médoc and Saint-Emilion. As a result, its economy is centred around the trade of wines – in 2015 there were 7,375 producers in the region. Most years, close to 900 million bottles of wine are produced. The city also has a well-developed tertiary sector and is an important industrial employer, especially in the automotive, chemical and biotechnological industries. Ubisoft, Hermès and Deezer have headquarters in Bordeaux.
Tourism is also of great benefit to the city's economy. In 2018, 6.1 million overnight stays were recorded in the city, an increase of 19 percent on 2017. As a port city, Bordeaux is serviced by cruise ships as well as by air – there were 26,200 cruise tourists in 2018, for example. Bordeaux is a well-established MICE hub and popular business tourism destination. It hosts more than 100 conferences a year, making it a major player on the international business travel scene. This success is due to the city's exceptional R&D centres and fantastic transport infrastructure, which will continue to expand and develop in the future.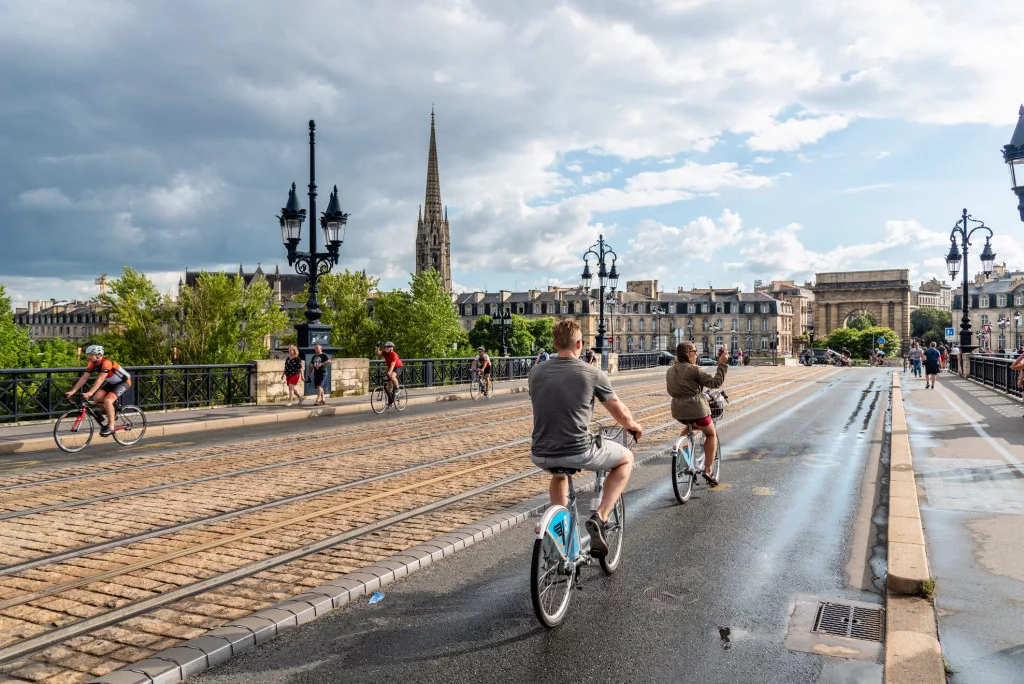 TOURISM INSIGHTS: BORDEAUX CONVENTION BUREAU
---
The Bordeaux Convention Bureau was founded 25 years ago, with a visionary ambition of promoting the city and its surrounding regions as a destination for conventions, seminars, trade fairs and incentives. It currently acts as an interface between local professionals in the business tourism sector, and events organisers, proposed venues and other service providers. It also prepares applications to position the city for national and international conferences. We sat down with Amélie Déchénais, the manager of the Bordeaux Convention Bureau, to discuss Bordeaux's potential as a business travel destination.
Q&A WITH AMELIE DECHENAIS, MANAGER, BORDEAUX CONVENTION BUREAU
Since inception, how has the Bordeaux Convention Bureau developed and progressed in terms of its key objectives and the messages it tries to get across?
Amélie Déchénais (AD): Our primary role is to get national and international events to come to Bordeaux which wouldn't normally do so. We have to stand out, attract and innovate so that those clients choose us as their destination! We have developed a business strategy for congresses and major professional events. It consists of bringing together institutions and major players in sectors across the city in order to boost our bids to host events, and ensure a high quality, harmonious welcome. We attach great importance to allowing burgeoning sectors – aeronautics, geosciences, robotics, neuroscience and many more – to flourish on our territory by hosting events or conventions. We are becoming increasingly committed to organising responsible events. We strive to become an eco-responsible destination in the years to come, a remit extending beyond our events industry.
How would you say Bordeaux has developed in recent years as a business travel hub and what are the key reasons behind its growing appeal?
(AD): Voted the best city in the world by Lonely Planet in 2017, Bordeaux is now internationally recognised as a major business destination. Each year, it welcomes more and professional events. Last year, more than 120 congresses were organized in the metropole, 57 of which were international. This added up to a total of nearly 290,000 congress days – an increase of 40% on 2018! Bordeaux is an epicentre for innovation. We have more than 60 sectors of excellence. What's more, we are the city with highest job creation rates in the digital sector, and the metropolis with the highest business growth rate in France. Several reasons explain this growing interest for our city. One is our fantastic transport system and flight connections. The other is our business infrastructure, including a new congress and exhibition hall with a capacity of 6000, and more than 16,600 rooms in 220 hotels.
Why, in your opinion, should someone visit Bordeaux?
(AD): Bordeaux has some fantastic attractions, including the largest UNESCO-designated urban area in the world. But nature is at your fingertips with a walk or cruise along the Garonne River. The city is in constant renewal: development of the quays, renovation of the right bank, new districts springing up. To the North, the Bassins à Flot are bringing life back to the old Bordeaux docks. To the South, Bordeaux Euratlantique is gradually becoming the economic heart of the city. The MECA (the Aquitaine 'economy and culture' exhibition space), was just inaugurated there in June 2019 to welcome cultural events designed for a business audience. If you wish to escape from the city, you can enjoy a day out at the vineyards, tasting the superb Bordeaux wines. We are also close to the forest and the coast. The Bay of Arcachon, the Arguin sandbars, the Pyla dune, and the cabins on stilts guarantee a real change of scenery.
Are there any specific attractions, landmarks or places to eat and drink that you would recommend?
(AD): Bordeaux is the gateway to the South West and the epitome of the sweetness of life. Wine, cannelés, Aquitaine caviar, oysters… Our specialties make Bordeaux a true symbol of the French way of life. Our typical French markets, such as the Halles Bacalan or the Capucins can offer you a glimpse. A tasting in a wine bar could also nicely end your day. A dinner next to the Garonne is definitely a must-do, at Les Chantiers de la Garonne for instance. A dinner in a wine property such as Château Haut-Bailly or Château de Ferrand is also recommended.
What trends are transforming the tourism industry in Bordeaux at present? How are you responding to these trends?
(AD): The tourism industry is more attentive than ever to its sustainable development. The Bordeaux Convention Bureau aims to be a powerful driver of this transition, improving the experience for business travellers. Following the next G7 summit in August, Bordeaux has also been chosen with 8 other French cities to take part into a pilot programme which aims to extend the existing ISO 20121 certification for sustainable events to sustainable destinations. Various actors of the Bordeaux business tourism sector are endeavouring to be more low impact. For example, Bordeaux Events propose a carbon footprint for events, while Vatel Hotel is certified ecologically, partly for its rooftop solar panels.
How do you see Bordeaux developing as a business travel hub over the next year or two?
(AD): We just inaugurated a brand-new Exhibition and Convention Hall, the Palais 2 l'Atlantique. Bordeaux now has the second largest Exhibition Centre in France, outside Paris. It has a capacity of 6,000 and 50,000 m2 of exhibition space, bolstering Bordeaux's capacity to compete with other major cities for conferences, conventions and trade fairs. Our business infrastructure is continuing to develop. There will be new convention centres and 750 new hotel rooms available by 2021, as well as a new tram line between the airport and city centre by the same date. The Metropole has a clear strategy to make Bordeaux an essential, perfectly adapted hub for business tourism.
Are there any plans or projects in the pipeline that you wish to highlight?
(AD): The Bordeaux Convention Bureau just launched the observatory for business tourism. Almost 40 major operators in Bordeaux's business tourism sector are involved, including convention centres, accommodation providers and venues for large-scale events, national research centres and much more. This observatory aims to improve the Bordeaux metropolitan area's attractiveness in the professional events sector. We are also developing a Welcome Pack to ensure a high-quality welcome of our clients. It will include public transport tickets, information about local events and accommodation lists.
Are you optimistic about the future of the tourism industry in Bordeaux?
(AD): Of course! It's fascinating to work in a constantly growing and innovative city such as Bordeaux. You should come and visit us!
OUTLOOK RECOMMENDS
STAY:
---
WINE SHOPS & CELLARS
---
VINEYARDS & TOURS
---
If you're looking to explore the wine growing region beyond the city limits, book a tour with Ophorus. The company leads small group and bespoke private tours to the St Emilion and Medoc regions, where the world's best red wines are produced. Tours include wine tastings, winery visits and sightseeing excursions to local villages. The tours are fully adapted and family-friendly, so children are more than welcome. The company also organises sightseeing tours. Their most popular excursion is to the Arcachon Bay. It takes in Dune du Pyla, Europe's tallest dune, and a trip to a seafood restaurant in Arcachon town or Cap Ferret.
BORDEAUX EXHIBITION CENTRE IN FOCUS
---
Bordeaux Exhibition Centre bills itself as a place where anything is possible. It has an enviable location in the city centre, on the shores of Bordeaux Lake. This vast complex occupies 84,000 square metres, and is designed for optimal modularity, with three exhibition halls and a new centre, Palais 2 l'Atlantique. This means you have the flexibility to customise your event.
The new hall, Palais 2 l'Atlantique, has a total surface area of 15,500 square metres including a reception area, 12 meeting rooms and a vast main hall. This area can be transformed into a conference centre with tiered seating, or be made into a series of smaller event spaces with a system of partitions.
Events that have been held recently at the centre include the European Defence Meeting, SAE Aerotech Congress, the Aquitaine Agricultural Show, and Vintech, a wine expo.
The centre offers a team of passionate event organiser to help you create a bespoke event. They can accommodate a diversity of requests relating to set up, catering and spaces. If you're planning on hosting an event in France, the Bordeaux Exhibition Centre comes highly recommended.
GETTING THERE AND AROUND
---
As Amélie Déchénais, the manager of the Bordeaux Convention Bureau says, "it is easier than ever to get here, thanks to one of the fastest traffic-growing airports in France".
Bordeaux Airport currently serves 109 direct destinations. In 2018 it saw 6.8 million travellers. Bordeaux is also connected to other cities in France and Europe by high speed rail services (the TGV). Over 30 trains per day run between Bordeaux and Paris, a journey which takes two hours. Brussels can also be reached in four hours – there are 15 trains a day.
The city has an efficient and user-friendly transport system, Transports Bordeaux Métropole (TBM). It consists of four tram lines and 80 bus lines, allowing you to visit all major landmarks. Plenty of taxis are available. But public transport isn't the only way to see the city. Try renting a bicycle or taking a river cruise along the glassy waters of the Garonne River, which bisects the city. "By bike, bus, motorbike sidecar, Citroën 2CV… we offer plenty of creative possibilities to discover our region!" Déchénais says.