A soulful city stretching from the sea to the volcano, Naples offers a wealth of cultural attractions, from catacombs to churches.
NAPLES
---
Naples is Italy at its most soulful. It's city of castles and cupolas, with so many historic attractions it's known as an 'open air museum.' As the birthplace of pizza, it's also renowned for its food scene. Scratch under the surface and you'll discover hip neighbourhoods, a thriving arts scene and an unpretentious atmosphere. It's easy to see why Naples is one of Italy's most captivating cities.
There's so much do in this sun-kissed city, you'll be spoilt for choice. Head to the UNESCO-designated historic centre, which is the largest in Europe. Check out the vast Piazza del Plebiscito, a square surrounded by ornate, pastel-coloured buildings such as the Royal Palace. Sip an espresso at an al fresco café in the chic Vomero neighbourhood. Stop for a slice of Neapolitan pizza at one of the city's 800-plus pizzerias.
The city is perched on the Gulf of Naples, meaning several vantage points in the city offer sweeping sea views. The east of the city nudges up against Mount Vesuvius – its looming silhouette dominates the horizon. Naples is ideally placed for day trips to nearby Pompeii, and has ferry connections to nearby islands, such as idyllic Capri. You'll love exploring this city's hidden corners and stunning natural surroundings.
THE BUSINESS END
---
Naples is Italy's third largest city after Milan, and is southern Italy's industrial centre. Traditional industries include winemaking, textiles and food processing. Newer industries include electronics manufacturing, shipbuilding and petrol refineries. Apple has launched a new Developer Academy at the University of San Giovanni a Teduccio, a contract which has been renewed until 2021. One app they have presented, Lyra, helps the hearing impairment recognise sounds by translating them into visual signals.
In recent decades there has been a reduction of jobs in the industrial sector, and there is a high unemployment rate (11 percent in 2017). However, one boost to the city's business came in the form of a new central business district, designed by Japanese architect Kenzo Tange, and completed in 1995. The centre represents one of the most extensive city-building projects in recent decades, revitalising a derelict area. With its glass skyscrapers and manicured boulevards, it's an appealing area with the infrastructure necessary for business conferences.
Tourism is now one of the largest sectors of Naples' economy, with the hotel trade sector comprising 3.7 percent of the city's GDP. In 2017, around 3.7 million tourists headed to Naples, making it one of the most visited destinations in southern Italy. This is thanks to its large amount of cultural attractions, and proximity to other tourist sites such as Mount Vesuvius, Pompeii and Capri. However, owing to the private organisation Convention Bureau Napoli, Naples is also rapidly gaining prominence as a MICE destination.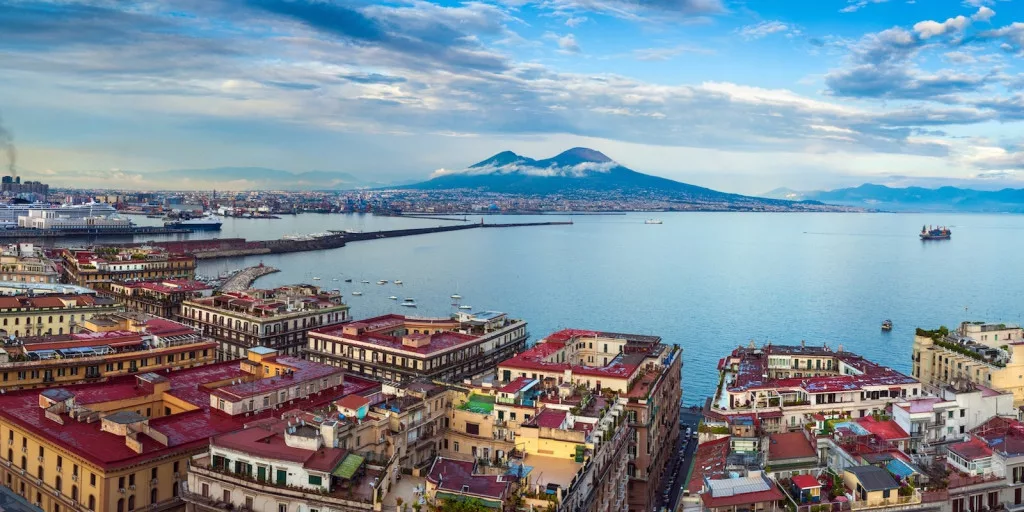 TOURISM INSIGHTS: CONVENTION BUREAU NAPOLI
---
The Convention Bureau Napoli was born four years ago, thanks to some entrepreneurs in the city who decided to create a network to enhance the promotion of Naples as a MICE destination. The organisation's founders include some major hotels, the international airport, caterers, professional congress organisers and many more. We spoke to Giovanna Lucherini, the Managing Director, about how the bureau markets Naples as a business destination, and why the city makes such a good MICE venue.
Q&A WITH GIOVANNA LUCHERINI, MANAGING DIRECTOR, CONVENTION BUREAU NAPOLI
Can you tell me a little bit about the history of the convention bureau?
Giovanna Lucherini (GL): We started from the very beginning, so we were a real start-up. We had to work a lot on the promotion of Naples abroad as a business and MICE destination, as the city wasn't so clear on where it stood in relation to the rest of Italy, and its own importance. This region is better known for other attractions, such as the Amalfi Coast or Pompeii.
How do you market Naples as a business travel destination?
(GL): We had to do some important work through different channels. First, we had to create the product of Naples from the MICE point of view. One of the key features of Naples as a product is its unconventional meeting and conference venues. Besides hotels and main conference centres, we decided to promote the historical buildings, churches and underground galleries and catacombs unique to the city. Naples is one of the clearest examples where history can be traced through its "layers": a territory which runs from the sea all the way up to the volcano, so there are so many tunnels, different landscapes and historical attractions here. We had a slogan – "In Naples, you can do anything but skiing." Then we had to market Naples through social and magazines in Italy. But we also had to promote outside of Italy, especially to those markets connected to Naples by direct flights. The airport has increased the amount of direct flights, which has really helped our marketing. We also took advantage of the high-speed trains, many of which have direct connections to the city.
Can you tell us a little bit more about the services you offer?
(GL): We provide a range of advisory and support services, all free of charge. For a start, we help you research suitable meeting venues and accommodation for your events. We can connect you with local institutions and help you coordinate inspection visits. We also help organise relevant cultural and leisure programmes for delegates. We can also help you with the bidding process – planning the application and collaborating with the presentation.
What are your organisation's plans for the next couple of years?
(GL): This year we are focussing on bidding for events. In the previous couple of years, we won bids for events when we were up against places like Istanbul, Rome and London, which represented a big victory for us. We are keen to do more of this. We need to be more representative of the mass market, so we wish to increase the number of our members and partners in different categories. We hope that the public institutions will react appropriately. In Italy it can be quite difficult to form synergies with the public sector, which is a challenge for private organisations like ours.
How do you see Naples developing as a business travel hub over the next couple of years?
(GL): By increasing the number of passengers and increasing its visibility as a destination in international markets. Thanks to the airport we have new connections to the Far East and the United States. Many Italian immigrants come from this area. It's important that they can reach home after many generations and be the ambassadors for their native country.
Are you optimistic about the future of business travel in Naples?
(GL): Yes, even though the professionals and all the stakeholders need to work with our vision for the future, not the present reality. They need to be more conscious that there is a lot to do to have a guarantee for the future. This will only work with the support of our public institutions. I am optimistic, but it's only with public support and working together that will we be able to achieve our goals.
UNCONVENTIONAL CONVENTION VENUES IN FOCUS
---
One of the key attractions of Naples as a business travel destination is its unconventional meeting venues. The city centre is a UNESCO-designated site, and is packed with historic churches, museums and even underground chambers where you can organise conferences. Giovanna Lucherini, Managing Director of Convention Bureau Napoli, among many historical buildings, recommends Compleso Monumentale Donnaregina – Museo Diocesano Napoli as a meeting venue. "Two original churches, the medieval one and the 17th century one with baroque style, are unique in the panorama of the Neapolitan historical centre. In one venue, you can have two different centuries represented, and this is something you can really play with." The vaulted ceilings, paintings and precious liturgical objects on display make the museum a unique place to hold an event.
Another unconventional venue is the Catacombs of San Gennaro. These underground tunnels date from the second century AD, and are attached to the Basilica of San Gennaro, an elegant building built in the fifth century. With its capacity of 350, it is the perfect place to host conferences or gala dinners. The Catacombs can also be viewed as part of a cultural tour for conference delegates.
OUTLOOK RECOMMENDS
Naples is raw, high-octane energy, a place of soul-stirring art and panoramas, spontaneous conversations and unexpected, inimitable elegance. Welcome to Italy's most unlikely masterpiece – Lonely Planet
THEATRE:
---
Fondazione Teatro di San Carlo
Next to Piazza del Plebiscito you'll find Teatro di San Carlo, the world's oldest opera theatre. It was built in 1737, lovingly designed by Giovanni Antonio Medrano with a gilded amphitheatre and high, frescoed ceilings. 'The eyes are dazzled, the soul kidnapped,' French author Stendhal said of the theatre. These days, the theatre has a packed annual programme of concerts, plays and ballets. It also has an education and training programme, which includes everything from primary school visits to internship programmes and workshops. The theatre also hosts a ballet school and a children's choir.
STAY:
---
EAT:
---
MUSEUMS:
---
The National Archaeological Museum
Madre · museo d'arte contemporanea Donnaregina
Certosa e museo di san martino
GETTING THERE AND AROUND
---
Naples is easily accessible by air. Naples International Airport is one of Italy's busiest, with a footfall of over 9.9 million passengers last year. It operates flights to around 106 destinations worldwide, mostly international, and to major European transport hubs. In 2019, 42 airline companies offered regular scheduled services, including KLM, Norwegian and British Airways.
Naples is also well-connected to other Italian cities by high-speed rail. The main station, Napoli Centrale, has 25 tracks and serves approximately 137,000 passengers a day. There are frequent connections to the capital, Rome – a journey which takes an hour and 15 minutes.
Getting around within the city is easy too. There are several transport options: bus, tram, metro and funicular railway. Line 1 is the most frequently used Metro line by visitors, connecting Napoli Centrale to the historic centre and a stop by the port. Buses are also popular transport options – you can pick up a map and timetable from the Tourist Information Office.
The four funicular railways are not an experience to be missed. They take you uphill to the chic Vomero district, where you'll be rewarded by panoramic views of city and ocean. The main line – Funiculare Centrale – is one of the longest in the world, and leaves from Via Toledo.