Canada's Wonderland has been creating memorable thrills for over 40 years. We speak to Phil Liggett, Vice President and General Manager, about dedication to family fun and the park's latest investments.
AMUSEMENT ALL YEAR ROUND
---
Canada is a source of natural and cultural wonder, boasting landscapes that are equally dramatic and beautiful, and large enough to find true adventure amid forests, lakes and mountainous rises.
But the marvels don't cease there. Canada is a hub of monumental celebration, with festivals being held throughout the year and amusement parks for all the family available across the country.
The largest of these is Canada's Wonderland; located in Vaughan, Ontario, the country's premier amusement park features more than 200 attractions, including two children's areas and 18 roller coasters, one of which is the world record-breaking dive coaster, Yukon Striker.
New for 2023, is the one-of-a-kind thrill ride Tundra Twister and the family launch coaster Snoopy's Racing Railway. The park also features a 20-acre water park with Canada's largest outdoor wave pool, 17 water slides, exhilarating cliff jumping, water playgrounds, and more.
The four-season amusement park also hosts world-class entertainment, live shows, and special events including Camp Spooky, Halloween Haunt, and the immersive holiday event WinterFest. The park is situated on approximately 300 acres and is one of 11 amusement parks owned and operated by Cedar Fair Entertainment Company.
Its key products include daily admission tickets and three-tiers of Season Pass – Platinum, Gold, and Regular – plus add-on products such as dining plans, drink plans, and fast lane passes.
"Since 1981, Canada's Wonderland has been the premier destination in Ontario for thrills, family fun, and world-class entertainment," begins Phil Liggett, Vice President and General Manager of the park.
"The smooth running of the amusement park comes down to our 150 dedicated full-time staff and the substantial number of seasonal staff, approximately 4,000, through the operating season which runs from late April to the end of December each year. These are the people at the heart of the process who ensure the happiness of everyone who visits!"
People are the focus of Canada's Wonderland. For Liggett, customer experience, operational excellence, and employee well-being stand above all else. In light of this, Canada's Wonderland is continuously evolving its people-centric offerings, the latest of which is the highly popular Lazy Bear Lodge.
"Lazy Bear Lodge is the largest dining facility in the park and represents the most significant investment we've made in food and beverage since Canada's Wonderland opened in 1981," Liggett tells us. "It's one of the latest additions to our growing Canadian-themed collection of venues and attractions, with two levels, a sprawling stone patio with an amazing view of our fireworks show, and seating for 500 guests.
"Its gourmet menu of smoked brisket, barbecue chicken, and healthy vegetarian options supports our ongoing efforts to elevate our amusement park dining experience. We're not just about hot dogs and pizza. We've developed a diverse offering of locally sourced, quality food and drink items that cater to the increasingly sophisticated preferences of our park guests."
Thus far, the response to the Lazy Bear Lodge, its architecture, the menu, and the speed of service has been very positive as it helps Canada's Wonderland deliver a memorable dining experience.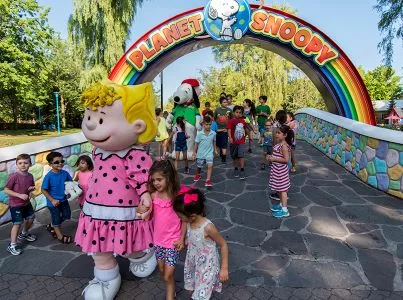 CREATING GREAT MEMORIES
---
Canada's Wonderland is a place dedicated to creating fun and great memories in a safe environment. For the park's management and teams, it is the unique experiences the park offers, and the fostering of fun for friends and families, that drive passion to deliver.
"The smile on a child's face as they experience their first ride; the terrified screams of friends as they encounter the first drop on a roller coaster; taking family photos with Snoopy or Charlie Brown after ice skating under the twinkling lights at Winterfest; or enjoying our classic strawberry funnel cake at the end of the day – these are only some of the unique experiences the park offers," Liggett tells us fondly. "Helping to create that fun and those memories is the best part of what we do at the park every day."
Each year, it is the management teams at Canada's Wonderland that implement developments designed to attract customers, create thrills, and produce that "wow" factor.
"It's a good year when we can offer both a new thrill ride and a new family ride in the same season to cater to the interests of different guest demographics," Liggett continues. "We've had the chance to do this a few times in the last decade and guests always respond well."
One such development is the park's all-new Tundra Twister, a thrill ride in the Frontier Canada section of the park. This consists of a giant swinging pendulum that takes guests 360 degrees, upside down to heights of 47 metres and speeds of up to 75 kilometres per hour (kph). The gondola seats fit 40 people and rotates spontaneously, which delivers a unique ride experience every time. It is a prototype designed by Mondial, a rides manufacturer in the Netherlands, which makes it the only one of its kind in the world.
Another key attraction is the highly popular Snoopy's Racing Railway, the park's 18th roller coaster and the newest addition to Planet Snoopy, one of the children's areas. This ride is a family launch roller coaster built by ART Engineering, accelerating from zero to 50kph in a matter of seconds before taking guests through the dips and turns of a wild railway adventure.
"Snoopy's Racing Railway is a great addition for kids and families. It can accommodate guests as small as 36 inches tall (three feet), so we're excited for our youngest thrill seekers who may find Snoopy's Racing Railway to be their very first roller coaster experience," Liggett shares.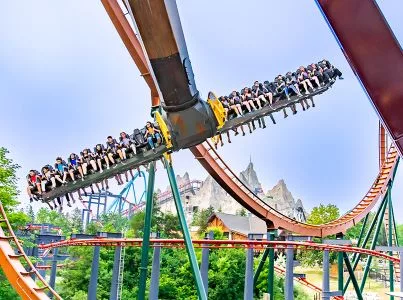 CATERING TO ALL SEASONS
---
Snoopy's Racing Railway is a perfect example of Canada's Wonderland diversifying its offers to cater to a wider customer base. This diversification of the guest experience is critical to ensuring that there is something for everybody when they visit the park.
"We have great thrill rides and exciting roller coasters, but we also provide great experiences for families with our children's areas and 20 acre water park," Liggett explains. "In addition to this, we have a full line-up of world-class events and live entertainment throughout the year, including cirque-style shows, international food festivals and special events like the week-long Celebration Canada and KidZfest with popular TV characters and Marvel superhero meet and greets. This keeps our entertainment offerings fresh and gives guests – particularly our Season Passholders – a reason to visit often."
In the fall, Canada's Wonderland features a daytime Halloween programme for children on weekends called Camp Spooky, and at night Halloween Haunt thrills the park's older guests with monsters, haunted mazes, and sinister shows. The fun continues in November and December with the park's immersive holiday event WinterFest, featuring millions of lights, ice skating, festive food, holiday shows, and interactive family experiences.
While open through all four seasons, Canada's Wonderland sees its busiest time during the summer months when schools in Ontario gain leave during July and August. Annually, the park hires for thousands of seasonal positions across all departments, with recruitment efforts beginning as early as January. These seasonal associates play a vital role in the park's mission delivering amazing experiences to all guests, and Canada's Wonderland offers highly competitive wages, amazing perks, and an opportunity to make lifelong friends and develop essential leadership skills to help build future careers for all those who join.
This people-centric skills development and experience is just one of the park's continuous aims, with future goals also enveloping multi-faceted business objectives.
"We have revenue and attendance targets but our success in meeting them depends heavily on our attention to certain key areas. These include guest satisfaction, the expansion of entertainment and attraction offerings, and ensuring awareness to emerging demographics," Liggett concludes.
"Our Season Passholder base is an important part of our business, so we make sure to add substantive value to those passes each year, through expanded perks programmes, exciting new rides, and events to give those guests plenty of things to do.
"We're a four-season park and want to give customers great reasons to visit all year long!"