World War II Wrecks
---
Embedded deep on the ocean floor of the Coral Triangle exists a multitude of WWII shipwrecks, where the islands once hosted the scenes of some treacherous fighting. Many different guides across the archipelago offer insightful and moving information on some of the historical sites, such as the rusting jeeps and tanks buried deep in the jungle alongside the foxholes tactfully used as Japanese observation plants.
Take to the sea and through a guided tour, look upon deep underwater relics like oil tankers, seaplanes, and submarines. Although many relics can be seen via snorkelling, some deeper depths are best accessed by more experienced divers.
Central Market
---
In the heart of Honiara lies a lively market like no other, spanning an entire block between Mendana Avenue and the seafront. Gorge on the impressive selection of fresh produce and treat yourself to some delectable seafood in the fish market. For the authentic experience of buying, eating, and immersing yourself as a local, this is an unmissable experience that perfectly epitomises the charm of the island.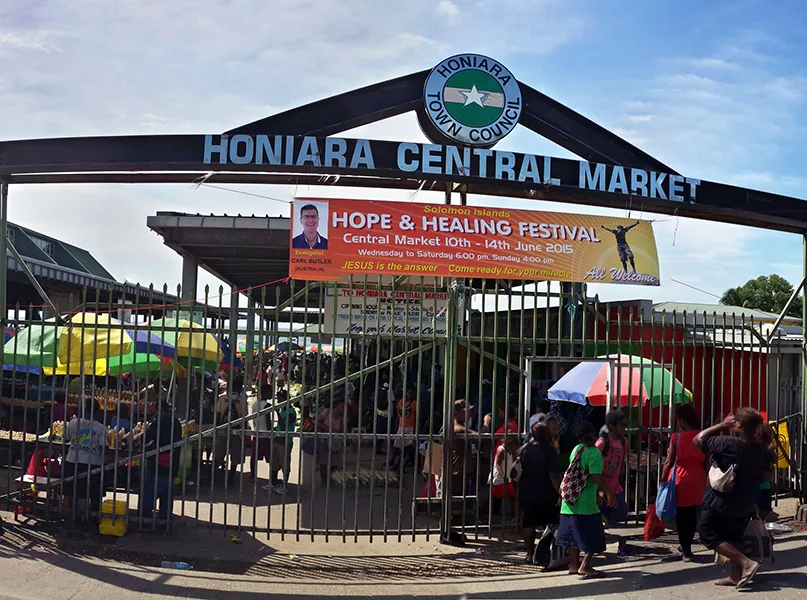 Tenaru Waterfall
---
Amongst an array of stunning waterfalls, the Tenaru Waterfall really goes the extra mile at 63m tall, with crashing waters that dazzle even the most avid waterfall lover. The waterfalls are fairly accessible via a two-hour walk (each way) from the tiny village of Tenaru, as the path follows the natural ways of the river valley, crossing the riverbeds many times before reaching the waterfall – but we promise it's worth it.