Offering a luxury lifestyle, the UAE city of Dubai has beautiful beaches, fine dining, state of the art architecture and vibrant nightlife.
Dubai
As a relatively new city in the southeast peninsula of the United Arab Emirates (UAE), Dubai is enjoying a healthy trade in tourism. Founded in 1833 and ruled by the Al Maktoum family to this day, Dubai is rapidly expanding, becoming a popular destination for holidaymakers and businesses alike. The iconic artificial Palm Islands are instantly recognisable and as synonymous with Dubai as the record-breaking Burj Khalifa – the tallest building in the world. The wealth that the city enjoys is due to a low tax rate, zero income tax and free trade, making it an obvious location choice for companies to operate. As an oil metropolis in the 1970s, Dubai became a global business hub of the Middle East, changing its landscape to incorporate skyscrapers that dominate the skyline. Hotels were built at an astonishing rate to accommodate the city's many visitors.
One of those feats of architectural engineering is the multi-award winning Rixos Palm Dubai Hotel and Suites, situated on the archipelago of the Palm Jumeirah with a view of the azure waters, marinas, and lagoons. It has a Turkish inspired spa where weary travellers can book in for the ever-popular Hammam treatment. Its 5-star facilities also boast a beauty salon and a fitness centre, while outdoor pursuits include beach yoga, a zen way to spend the day before dinner at one of the three signature restaurants where seafood, steaks or Italian cuisine is served.
Another hotel worth visiting is the Atlantis which has the Aquaventure water park with 105 attractions and slides, some of them nine storeys high, making it the largest in the world. Popular features include the Trident Tower, Splashers Lagoon and Splashers Cove. The Awaken Spa is available if you are seeking relaxation and for the more adventurous traveller, the Shark Lagoon Experience lets you swim safely with sharks and hand-feed friendly stingrays.
Known for its supercars and designer shops, there are plenty of activities to keep visitors entertained – there is a reason that Dubai is called a rich man's playground. The Mall of the Emirates has an indoor ski slope for a few thrills before shopping, but the Dubai Mall is the biggest and is equivalent in size to 20 football fields. Located next to the Burj Khalifa, it is home to 1,200 retail stores, two department stores and a plethora of eateries. With no shortage of designer shops, including Balenciaga, Cartier and Versace, the big brands flock to the capital of the Emirate. It is where you can also find the Gold Souk, one of Dubai's hidden gems.
Lesser-known places in the 'hidden corners' of Dubai are always worth a visit. Moon Island is a crescent-shaped stretch of sand 50 kilometres (km) off the coast, and is an ideal spot to swim, snorkel, or water ski if you want to engage in some water-based activities. Whereas, if you are looking for time together as a couple look no further than Love Lake. This picturesque location is often used for wedding photoshoots because of its serene ambience and indigenous wildlife including exotic birds, making it the perfect backdrop for romantic interludes. Another Insta-worthy vista is Banana Beach, with its hippie-esque aesthetic of cosy chalets and tents just 20 minutes from the Dubai Marina. For a culture hit, the dome capped Ali ibn Abi Talib Mosque is a remarkable sight with its intricate turquoise tiles and ornate rosette designs embodying Persian architecture.
Whatever your tastes, you can guarantee that Dubai has something for you.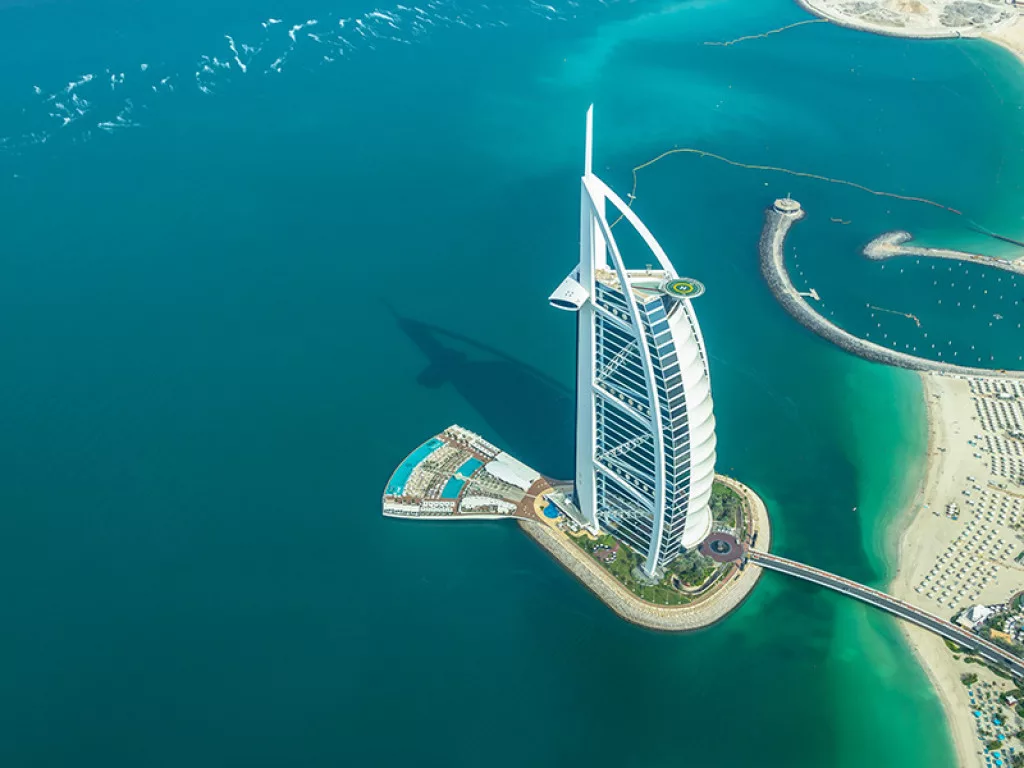 Outlook Recommends
Eat:
FOR FOOD WITH A VIEW…
At.mosphere Grill and Lounge – Located 442 metres above the skyline on the 122nd floor of the Burj Kalifa, you will find fine dining with breath-taking views. This unique experience will give you a taste of foie gras, oysters, or wagyu tenderloins while watching the sun set over the Dubai Fountain, the Arabian Gulf and beyond. The restaurant requires a smart/elegant dress code while the lounge is more casual.
FOR A SEAFOOD SETTING …
Ossiano, Atlantis The Palm – This Michelin-star progressive gourmet menu is set in an elegant and intimate surrounding and with sea life floating past it is an opportunity to view these magnificent creatures in their natural habitat of the Ambassador Lagoon. The 10-wave tasting menu is sustainably sourced and served with imaginative cocktails with a mixture of aromatic flavours and fresh ingredients, including exotic hibiscus.
Do:
FOR AN HISTORIC ADVENTURE…
The Heritage Desert Safari – Book a trip to traverse the red dunes of the Arabian desert in a 1950s vintage Land Rover and find out what it was like for the Bedouin (semi-nomadic desert-dwellers) to discover the Arabian oryx and Ghaf tree forest. While there, take in a falcon show, try Henna painting, or riding a camel, and for a cultural experience there is also Arabic coffee making.
Sleep:
FOR ULTIMATE PARADISE …
Burj Al Arab – As an icon of Arabian luxury, you are guaranteed a good night's sleep at this innovative retreat for the mind, body, and soul. The real treat is the private beach plus the hotel has been designed so every suite as an ocean view. Relaxation and rejuvenation are paramount in the award-winning spa, alongside The Terrace pool, a swim-up bar and poolside restaurant, there are yacht charters and a turtle sanctuary.