Nestled in the foothills of the Alps, luxuriate in a waterside sojourn amongst the spectacular backdrop of Lake Como.
LAKE COMO
---
Lake Como (otherwise known as Lario) has been a source of enchantment for centuries. The Roman poet Virgil called it "the greatest lake", while Como local Pliny the Younger famously said that the porch of his villa here was "always like spring."
Although the area has a reputation as the playground of the rich and famous, with the opulent villas of the jet set gracing its shoreline alongside grand luxury resorts, (George Clooney is one of the most searched-for local residents), Lake Como truly has something for everyone.
Its unusual upsilon shape carves the lake into three distinct branches, each with its own unique offering – whether the northern basin of Colico, the southwestern branch of Como, or Lecco in the southeast. Three of the lake's most alluring towns – Bellagio, Menaggio and Varenna – lie at the intersection of all three and are connected by a boat service operating a triangular route.
The landscape is a cultural treasure trove of neoclassical villas with breathtaking garden vistas, as seen in Villa Carlotta and the popular filming location of Villa Balbaniello, where cypress trees soar against a backdrop of towering mountains. Explore quaint Medieval stone villages ensconced between the lake shore and the mountains, Roman ruins refashioned into upscale hotels, and historic palaces that open their rooms for public viewing.
A cradle of natural beauty, the lake and its environs provide an endlessly rewarding bounty for the outdoor enthusiast, surrounded by sloping woodlands rising up to the snowy peaks of the Rhaetian Alps. Venture up from the lake and you will encounter winding ancient pathways carving through historic villages away from the bustle of Como and Bellagio. Just one example, take the Greenway walk along the western shore, as it carves a route from Colonno to Griante with an endless screenplay of dramatic panoramas along the way.
Whether you choose to explore on foot or cruise along its mirror-like surface, Lake Como promises to take your breath away.
TOURISM INSIGHTS: LAKE COMO TOURISM
---
Lake Como Tourism was founded in 2011 with the aim of becoming the reference point of the lake both in terms of leisure and business, offering 360° services for tourists and companies in collaboration with the best partners in the area. We speak to its Founder and CEO, Ampellio Ramaioli, to find out more about one of Italy's most seductive locations.
In your opinion, what makes Lake Como such an iconic Italian holiday destination?
Ampellio Ramaioli, Founder and CEO (AR): I think Lake Como is a very diverse territory, where culture, art, sport and relaxation come together, creating a perfect mix for your ideal holiday.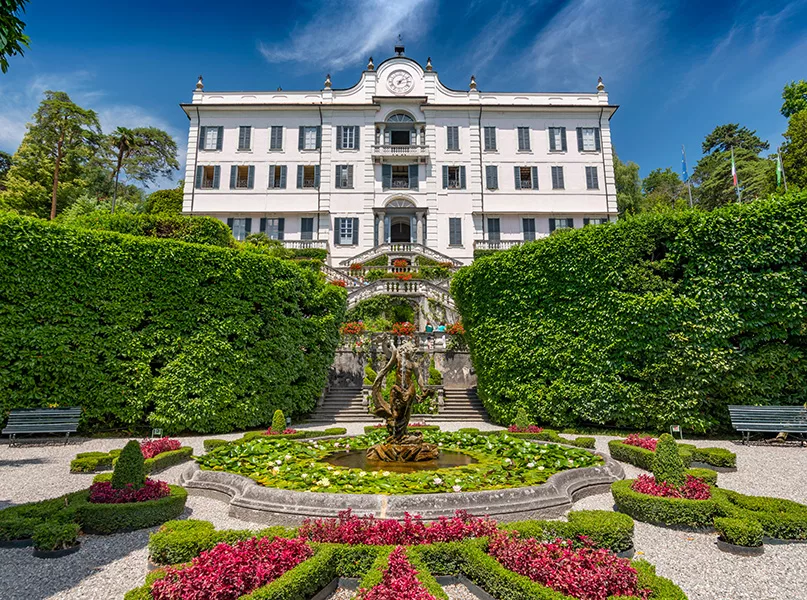 How does Lake Como appeal to tourists in search of luxury?
AR: In my opinion, tourists are looking for luxury, love, comfort and relaxation, but also gourmet cuisine as well as hiking in nature and discovering small local businesses. All of this is possible on our lake, which is why it is a popular destination for tourists looking for luxury for their Italian holidays.
How is the area embracing sustainable or environmentally friendly travel experiences?
AR: I am noticing increasing attention, mostly from accommodation facilities, in adapting themselves to European standards in terms of environmental impact. Moreover, tour operators are also increasingly moving in the direction of environmentally sustainable experiences through slow tourism.
What are some of the other main trends that are currently transforming tourism in Lake Como?
AR: We have noticed that the tourist season in Lake Como is getting longer every year and consequently, so is the world that revolves around tourism. The activities that are proposed for tourists are adapting and trying to offer various services throughout the year, not just during the summer season.
Are there any particularly unique experiences or underrated activities that Lake Como has to offer?
AR: Only very few people know about the possibility of going from zero to 1,000 mamsl (metres above mean sea level) in a very short period of time and discovering fabulous mountains and trails with breathtaking views. In fact, it is our intention, precisely for this reason, to promote not only the lake but also the mountains that surround it.
Finally, what is your personal favourite spot in Lake Como?
AR: There are so many places to mention considering that every branch of our lake offers something unique – from the branch of Como with its luxury villas immersed in majestic botanical gardens, to Lecco with its history, wildlife and surrounding mountains, and the upper lake, an ideal location for water sports lovers. And of course, you mustn't forget the Lake Centre with its beautiful villages of Bellagio, Varenna and Menaggio, which are hard to describe in words alone.
But if I had to choose just one place that I particularly care about, because of its silence, tranquillity and panoramic views of the entire lake while being in the midst of nature, I would choose the little-known spot of Alpe Giumello.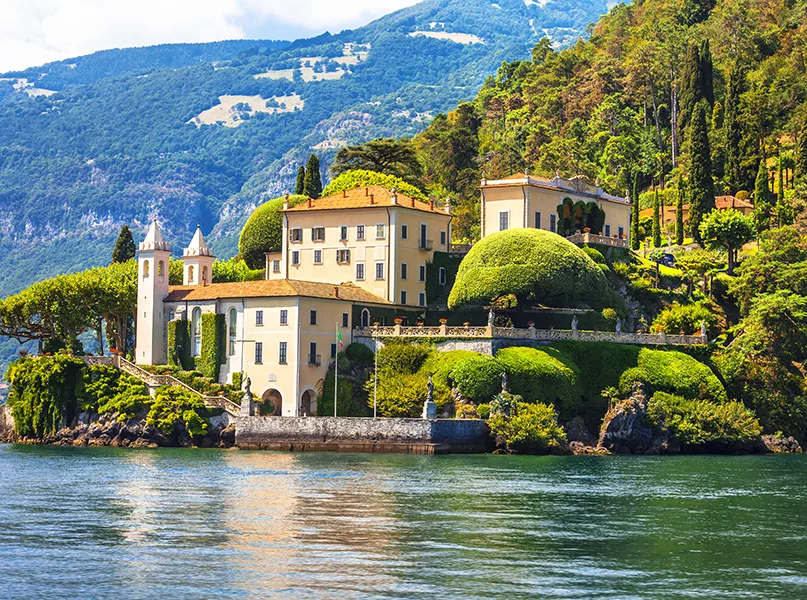 IN FOCUS: BELLAGIO
---
Commonly referred to as 'the Pearl of Lake Como', the quaint town of Bellagio is home to some of the most Instagrammed streets in the area. All Lake Como itineraries feature a visit to this picturesque town, located conveniently between the lake's two southernmost branches. It is highly recommended to reach Bellagio by boat, travelling from the town of Como where the slower vessels can take up to three hours. The boat journey is an experience in itself, allowing you to appreciate the sheer magnitude and beauty of the lake.
Its charming historic centre and colourful palate of buildings make Bellagio one of the most romantic destinations on Lake Como, where you can while away an afternoon strolling amongst its winding narrow alleyways and people-watching from a host of well-reputed wine bars. Be warned that comfortable walking shoes are advised since there are plenty of steps involved in exploring Bellagio on foot. Fear not, however, as a host of gelato spots and lakeside restaurants are in plentiful supply for when you're in need of refreshment.
Discover the picturesque neighbourhoods of San Giovanni and Pescallo and take a stroll through the stunning lush gardens of Villa Melzi or Villa Serbelloni. Bellagio's selection of characterful boutiques is ideal for some retail therapy, while culture vultures will marvel at the Romanesque church of Basilica di San Giacomo and the tranquil Piazza della Chiesa. Thanks to its central location, from here you are within easy reach of other lakeside gems that are just a boat ride away, including Menaggio, Tremezzina and Varenna.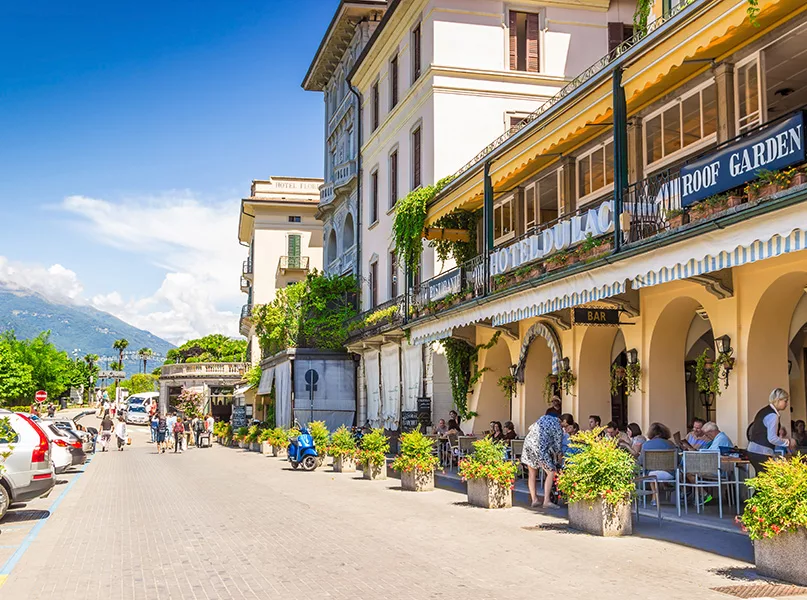 OUTLOOK RECOMMENDS
---
For the football fanatics…
A source of fierce local pride, Como 1907 is an Italian football club owned by Sent Entertainment Ltd. The club's origins date back to over a century ago, where, on a small patch of grass next to the shores of Lake Como, a game of football was once played between young members of Como's local rowing club, and an opposing team made of caretakers and Native Americans from the famous Buffalo Bill circus camped nearby.
The game ignited a local passion for football, resulting in the inauguration of the Como Football Club the following year in 1907. Today, with a rich and proud legacy behind the club's name, Como 1907 plays in one of the world's most scenic waterside stadiums.
The Giuseppe Sinigaglia Stadium is an historic landmark, originally built in 1927 at the request of Benito Mussolini. It has since undergone significant renovations and stands out for its iconic 'Curva Como' structure. With a tumultuous history that has seen the club undergo relegation, bankruptcy, and a hopeful comeback complicated by the COVID-19 pandemic, Como 1907 is now rising phoenix-like from the ashes under new ownership and playing in Serie B with the star-signing of Spanish football legend, Cesc Fàbregas.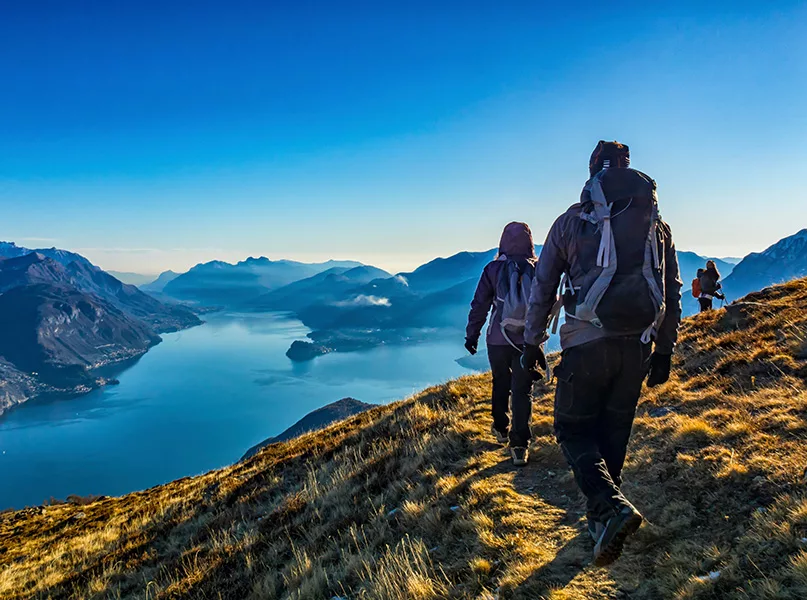 LANDMARK ATTRACTIONS
---
Lenno
A quieter alternative to the towns of Como and Bellagio, Lenno is an equally picturesque village found on the lake's western shore. Here, you will find the Villa Balbianello – a stunning location that features in both the James Bond film, Casino Royale, and Star Wars Episode II. With a stunning interior complementing its dramatic outdoor scenery, take a guided tour before heading to a breathtaking restaurant terrace in nearby Lenno.
Castello di Vezio
If visiting Varenna, be sure to hike up above the town's charming terracotta rooftops to the formidable Castello di Vezio. The castle dates back to the 13th century and was originally built as part of a series of Medieval watchtowers. Visitors can enjoy regular falconry shows and breathtaking panoramic views of the lake that are well worth the steep trek up a cobblestone path from Olivedo.
Duomo, Como
One of northern Italy's most significant religious landmarks, this Catholic cathedral was built over the course of 400 years between the 14th and 18th centuries. Stood proudly within Como's scenic Piazza Duomo, the cathedral is an architectural melange of Gothic, Romanesque, Renaissance and Baroque influences. Under its stunning Rococo cupola, admire Renaissance chapels and exquisite tapestries.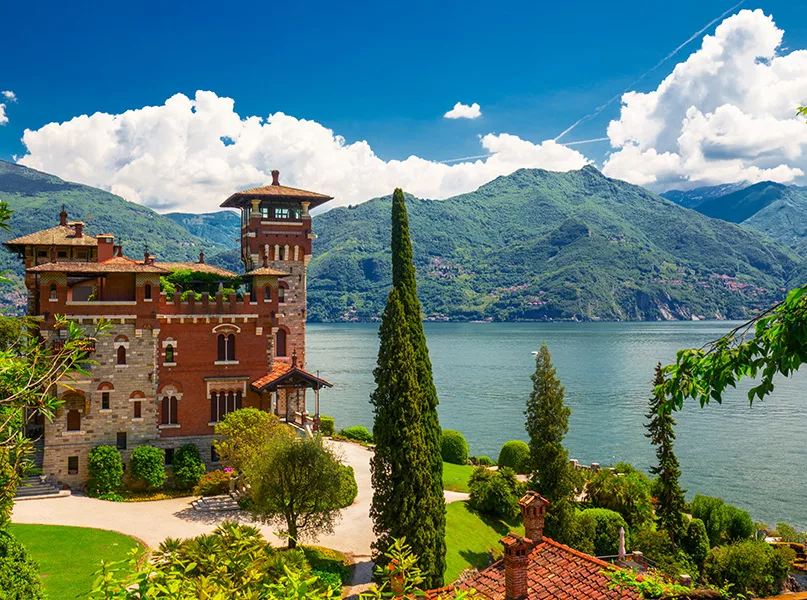 GETTING THERE AND AROUND
---
Lake Como is easily accessible from Milan – a destination which is well served by budget airlines and a host of rail options. From here, the lake is just an hour's drive away. Alternatively, connect to the main town of Como from Milan's Malpensa Airport with a choice between three separate railway lines which takes approximately 40 minutes.
When travelling around Lake Como, be sure to take advantage of the many ferries available, especially for boat rides between the major towns of Menaggio, Belaggio, Tremezzina and Como for an unforgettable travel experience along the lake's western coast. If you're longing for a taste of luxury, then peruse options for a private boat tour where you can cruise across the lake in your own water taxi, best enjoyed over sunset with a bottle of Prosecco.
If travelling on the water isn't for you, then bus routes are available along the western branch. However, bus services are not frequent, so it is always worth checking in advance.
Meanwhile, train travel can be a great option for travelling around Lake Como's eastern branch, connecting you with destinations such as Lecco and Varenna. Como is the only town on the western branch that has a rail connection, so from here, it is worth considering public transport, such as the generally well-reviewed public bus system, to continue on to further destinations.
Taxis are readily available, however, be warned that this is not the most cost-effective means of transport, although it is reliably the quickest!