Go 'beyond ordinary' to experience the authentic Caribbean on the unspoilt shores of Tobago, where wellness tourism is on the rise.
TOBAGO
Unspoilt is the word that best describes Tobago, as the tiny oval landmass cast adrift in the aquamarine waters of the Caribbean, situated between its sister island of Trinidad, and Grenada.
At just 41 kilometres (km) by 14km, this slice of paradise promises a taste of authentic island life, free from the overdeveloped resorts and teeming cruise terminals of some of its Caribbean neighbours. This location has long been sought-after, with a colonial history that saw the island change hands over 30 times. Its seductive appeal lasts to this day, largely thanks to its breath-taking natural beauty, local cuisine, and the warmth of its people.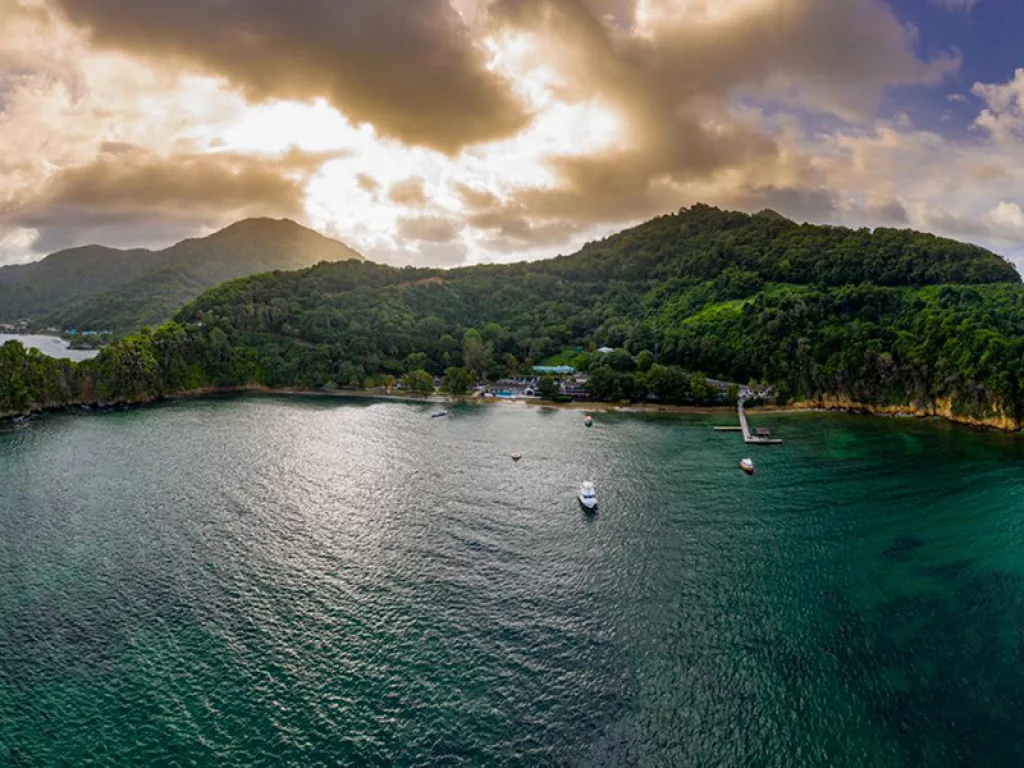 Tobago's comparatively underdeveloped urban footprint makes it a haven for biodiversity, best experienced in the protected UNESCO MAN and the Biosphere Main Ridge Forest Reserve which runs along the island's spine. A key indication for the importance and local pride in its natural environs, Tobago is the only English-speaking Caribbean island with Blue Flag pilot status for three of its beaches at Bloody Bay, Mt. Irvine Bay, and King's Bay, alongside a handful of Green Key certified hotels.
Wherever you wander on this easily-traversable Eden, colour abounds – from the chlorophyll green of the seas, and the pinks, whites and blacks of its sands, to its lush rainforest-carpeted landscapes. Tobagonian hospitality is famous, and on the Island of Festivals, there is always a reason to smile.
TOURISM INSIGHT: TOBAGO TOURISM AGENCY LIMITED
Following its core mandate to lead the development of Tobago's tourism marketing and positioning of the country as a premier island destination founded on the principles of sustainable development, the Tobago Tourism Agency Limited (TTAL) will celebrate its sixth anniversary in July 2023. We speak with TTAL's Executive Chairman, Alicia Edwards, for some exclusive insight into this Caribbean gem.
Q&A WITH ALICIA EDWARDS, EXECUTIVE CHAIRMAN, TOBAGO TOURISM AGENCY LIMITED
Why, in your opinion, should someone visit Tobago?
Alicia Edwards, Executive Chairman (AE): Culturally, historically and geographically, Tobago is diversity in a small package. Situated between its sister isle Trinidad and Grenada, Tobago's southerly location, outside of the hurricane belt, provides for almost perfect weather year-round. There's no shortage of things to do here, no matter what type of Caribbean holiday you're looking for. My top five reasons for visiting our unspoilt island are:
• Tobago is the land of million-dollar sea and forest views everywhere you turn within a 116 square mile space, including the oldest protected tropical rain forest in the Western Hemisphere: the Main Ridge Forest Reserve.
• We are home to a dazzling array of above-ground animal life – birds, and frogs, alongside medicinal and ornamental plants that are indigenous to the island.
• Below the water, our reef systems are rich in marine biodiversity: corals, sponges, sea horses, rays, sharks, moray eels and more provide the best diving and snorkelling experiences in this hemisphere.
• Our warm, hospitable people live in harmony with the environment and each other, despite diverse racial and religious beliefs.
• Tobago has a rich history stemming from its colonisation by the French, Dutch, Spanish and British in the 17th and 18th centuries, during which time it changed hands 31 times. There are tangible and intangible remnants of their occupation in our former slave estates and other sites throughout the island, and our culinary offerings reflect that rich diversity.
What kind of travellers does the island most appeal to?
AE: The core appeal of Tobago lies in its lack of commercialism. It is truly unspoilt, much less developed, friendly, fun, and authentic.
It is "how the Caribbean used to be". With a population of just over 50,000, Tobago is also the perfect holiday destination for travellers seeking somewhere with little to no crowding so you can fully enjoy our tiny slice of paradise.
Whether it's trekking through the many trails of the Main Ridge Forest Reserve or soaking up the sun on one of the multitude of beaches, there are so many opportunities to safely explore the beauty of our island. Tobago is a balm for the soul in a time when we need it most.
How have tourism trends changed on Tobago in recent years?
AE: Post-COVID-19 travel trends indicate a shift towards safe and environmentally conscious destinations. We can confidently say that Tobago is right on the mark with both trends. TTAL has been building on the momentum of our successful environmental programmes: Blue Flag, Green Key and our UNESCO Man and the Biosphere. In fact, Tobago is the only destination in the English-speaking Caribbean with Blue Flag certified boat operators and Green Key hotels. The destination has also been awarded Blue Flag pilot status for three beaches: King's Bay, Bloody Bay and Mt. Irvine Bay.
Responsible tourism has been put on the front burner and our partnership with non-governmental organisations (NGOs) and other bodies engaged in sustainable tourism activities is ongoing. We are currently examining what is happening in our smaller, more eco-conscious tourism hubs, to replicate and adapt these sustainable initiatives in other areas of the island.
We have also seen an increase in wellness travel due to the stress of the pandemic and this is quickly forming an integral part of today's tourism industry. Indeed, Forbes predicts that wellness is a USD$4.2 million market. In this regard, TTAL has embarked on the development of a unique brand of wellness that aligns with the destination's positioning. In 2021, we hosted a virtual conference called "Exploring Wellness Tourism 360" to stimulate local awareness of this niche area and highlight opportunities for industry stakeholders and locals. This will be followed up with workshops for on-island tourism stakeholders, and ultimately the launch of Tobago's wellness niche offerings as part of the destination's suite of experiences post-COVID-19.
We are also expanding our marketing efforts to tap into the diaspora traveller market. The Visiting Friends and Relatives (VFR) market has been leading the travel sector and is a saviour for the airline industry. Trinidad and Tobago have a large diaspora community that has undoubtedly felt cut off from home due to travel restrictions. With the recent establishment of the National Diaspora Policy, there is considerable potential to capitalise on this travel trend and change the way the diaspora market is engaged.
What are the island's greatest differentiators as a Caribbean destination of choice?
AE: Here is what makes Tobago so different:
Our local culture, people and heritage – Tobago's vibrant and colourful history makes it one of the most distinctive places in the Caribbean. As an island of festivals, it's likely that any visit to Tobago will coincide with a unique event where visitors can immerse themselves in our culture through exciting celebrations with the locals. Totally unique to Tobago is the Harvest Festival which begins on the first Sunday of each new year. This activity is a weekly occurrence, moving from village to village across the island throughout the year. It began as a Thanksgiving ceremony after slavery and has since evolved into a unique expression of Tobago hospitality. The national Carnival festivities follow on the events calendar in February or March depending on the year, with fêtes and cultural pageantry that culminate in flamboyant costumed street parades. At Easter, you can experience kite flying and the indigenous sports of goat and crab racing. Soon after, the Tobago Jazz Experience brings some of the biggest local and international acts together to perform against the backdrop of stunning ocean vistas. In summer, the Tobago Heritage Festival sees the island reconnect with its customs and historical roots, with folk dancing, dramatic reenactments, and captivating storytelling. In 2022, Tobago's first October Carnival events was successfully executed, paving the way for it to become an annual fixture on the event calendar. Tobago's rich culture is also best experienced through our unique culinary offerings. Visitors can infuse their vacation with local flavour and treat their tastebuds to delectable signature dishes like curried crab and dumplings, pacro teas or Asian, European and African cuisine that is more often than not farm to table – rather ocean to table! We are proud of our piece of paradise and will do whatever we can to ensure that you love it as much as we do.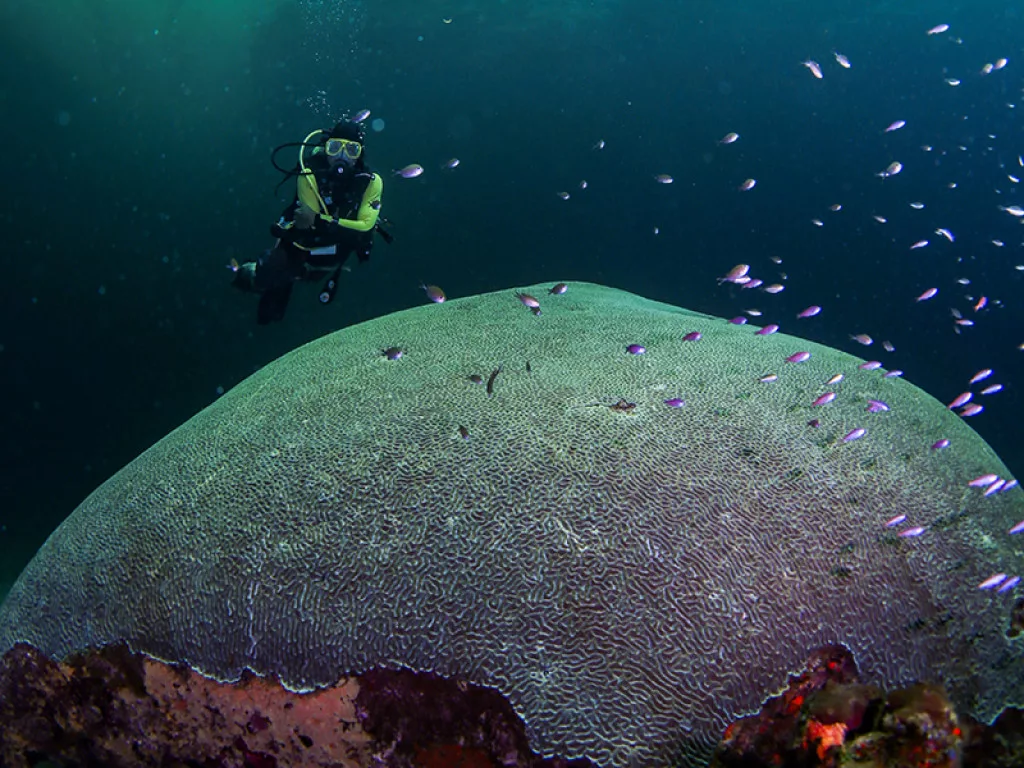 Eco adventures and nature – Tobago enjoys a warm tropical climate, tempered by north-east trade winds, with an average daytime temperature of 29° C (83° F) and maxima in the mid-30s. The wet season is from June to November, but the rain usually falls in short, intense bursts whilst most days have lots of sunshine. The early months of the year are drier. Fortunately, the islands are outside the usual path of hurricanes. Travellers can awaken their wild side and immerse themselves in the flora and fauna of Tobago's treasured Main Ridge Forest Reserve, where, surrounded by lush greenery, nature lovers, hikers and bikers can embark on guided or solo treks around the island with the promise of stunning waterfalls, remote beaches and breathtaking vistas as a reward at the end of every journey. We also offer some of the best birdwatching in the Caribbean with 260 species of birds and counting. Tobago's intimate reef systems teem with abundance in marine biodiversity, and our clear, pristine waters offer a range of over 50 diving sites. Our dive sites provide something for everyone ranging from adrenalin pumping drift dives to being able to hover over the world's largest known brain coral. These natural treasures make the island a sight to behold both on land and in water. We also have many highly trained instructors and a hyperbaric chamber, making Tobago the perfect dive destination for both experienced and novice divers.
Our beaches – Imagine going completely off the grid on a secluded stretch of coastline, where your footprints are likely to be the only ones you'll see. Whether it's soaking up the sun, revelling in the surf, or seeking gorgeous sunsets, there's a strip of sand that's just right for everyone – and we do mean everyone! Tobago has over 40 different types of sand, from the pink hued tones of Lover's Bay, to the white sand beaches of Pigeon Point, and glittering black sand at Stonehaven Bay. And if visitors want to plunge into the heart of the action with adrenaline pumping water sports or bucket list adventures, Tobago truly takes you beyond the ordinary. Experience the magic of a night-time Bioluminescence Tour in Bon Accord Lagoon, swim with the turtles at Mt Irvine Wall, ride horses through the surf at Buccoo Bay, or dip in the 'Fountain of Youth' at the Nylon Pool.
Romance and Weddings – Finally, in Tobago, endless romance meets near-limitless possibilities. Getting married in Tobago can be done after 24 hours of being on the island, which is why so many couples have chosen to say yes to starting their lives together on this unspoilt paradise isle. Whether the dream is to host a barefoot ceremony on a deserted beach, tie the knot beneath a dramatically beautiful rainforest canopy, or simply find a naturally serene spot to unwind together with that special someone, Tobago delivers the ideal backdrop to celebrate the next chapter of any couple's love story. While the interests of a wedding party may vary, because there are over 101 things to do in Tobago, one can easily create an itinerary for guests that will suit everyone's tastes.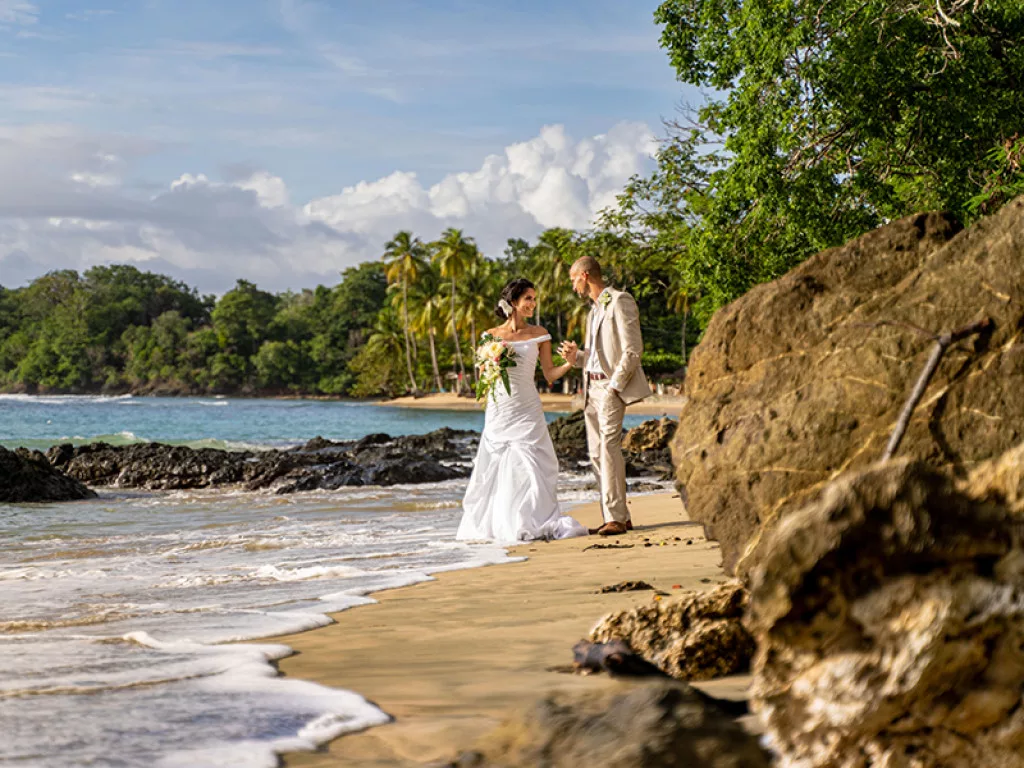 OUTLOOK RECOMMENDS
DO:
For a reliable excursion partner…
For taking a deep breath…
The ultimate choice for submarine exploration, Frontier Divers Ltd is a certified scuba diving centre based at the Sandy Point Beach Club in southwestern Tobago. Registered with the Tobago Dive Association (ATDO) and run by husband-and-wife team Alvin and Kerry Douglas, this is one of the only locally owned dive shops on the island.
SLEEP:
For a convenient stay in Scarborough…Located near to Tobago's main cruise port, Comfort Inn & Suites Tobago combines convenience with premium amenities. A new opening on the island, enjoy a rooftop pool and restaurant with sparkling ocean views, a full-service spa and modern fitness centre, free Wi-Fi, a daily complimentary breakfast, and spacious guest rooms and suites.
For budget-friendly guesthouse accommodation…
La Casa de Castara is designed for relaxation and rejuvenation in the quiet fishing village of Castara. Offering one of the largest single guest house units in the village, the property combines a modern build with a charming rustic appeal. Enjoy drinks from the balcony, overlooking the rainforest and the stunning Castara Beach.
For luxury on the cliffside…
CHASTARA IN FOCUS
A charming fishing village found on north-eastern Tobago's leeward coast, Castara is known for its relaxed vibe and stunning beaches, and is a haven for swimming, snorkelling, fishing or simply taking a stroll.
It is primarily centred around the stunning Castara Bay – a 275-metre-long stretch of golden sand running parallel to emerald green waters and fringed by lush acres of rainforest teeming with birdlife. If you are looking to surf or jet ski, you won't find these disruptions in peaceful Castara, so its gentle waters are a swimmer's paradise.
Although the most developed tourist hub along this stretch of coastline, you can wipe away any associations of overcrowding and monstrous resort hotels, since its remote location has protected Castara from overdevelopment. The beach itself is served by a restaurant, bar and mini-mart, while the village hosts local businesses and several modest places to stay.
Here, there is a fine balance between locals and tourists, and Castara is renowned for its hospitality. Every Thursday night, residents gather on the beach for a weekly bonfire where tourists are welcomed.
Fishing is the staple activity in Castara – don't miss the opportunity to join in with the pulling of traditional seine nets in the early morning, which are still widely used by the local Rasta fishermen. Be sure to visit the fisherman's depot by the beach where you can support the fishermen themselves by purchasing homestyle fish broth straight from the source. Otherwise, a barbecued fish grill on the beach is a quintessential Castara experience.
Nearby, in the tiny village, visit the Castara Heritage Bakers – an initiative run by local women – where you can choose from fresh bread, cakes and other goods made in a traditional clay oven.
Every August, the town comes alive with one of Tobago's largest festivals – the Castara Fishermen's Fete, where you can drink, dance, eat and swim the day away. If visiting Castara, consider combining your trip with a visit to the secluded shores of Englishman's Bay nearby.
The perfect view of this little parcel of perfection can be enjoyed from the lookout point at the top of the hill, where you can survey the village and crescent bay below. Believe us, it will be hard to tear yourself away.
LANDMARK ATTRACTIONS
Main Ridge Forest Reserve
The backbone of the island and a UNESCO Man and Biosphere Reserve, this is the oldest protected tropical rainforest in the Western Hemisphere. Regularly ranked amongst the world's leading eco-tourism destinations, explore on foot to discover a kaleidoscopic array of flora and fauna, or take to the water to explore several reefs and offshore islands including Little Tobago.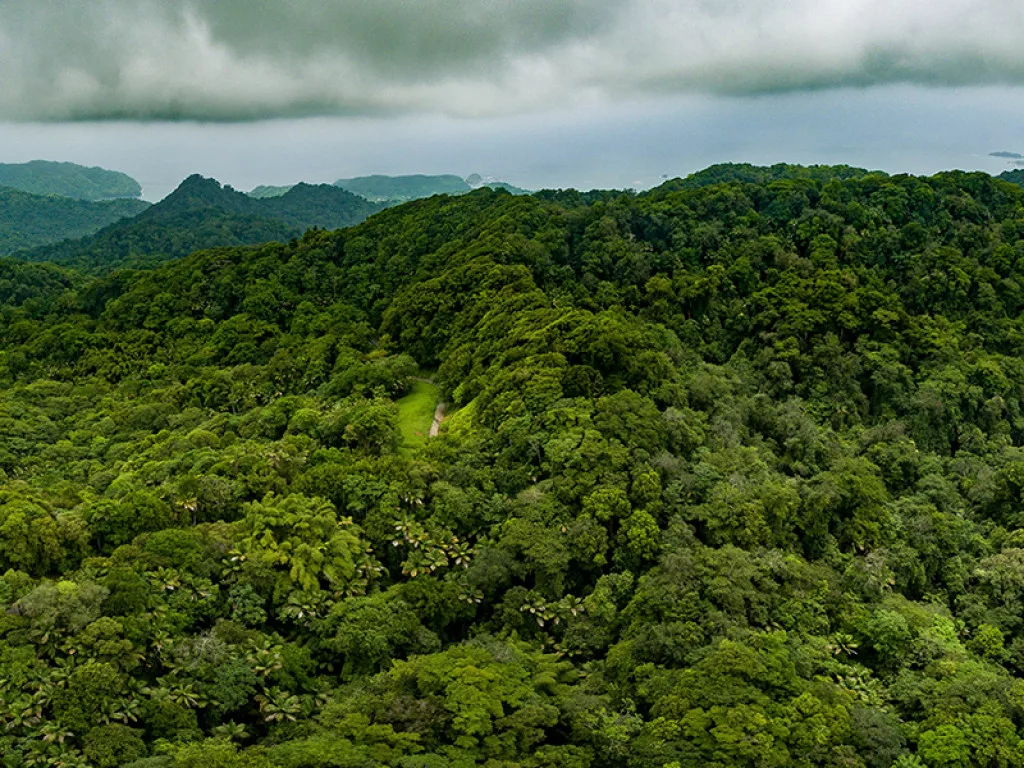 Fort King George
This formidable battlement in Scarborough is one of the best-preserved historical sites on Tobago. The site is testament to a tumultuous colonial history, and was originally built by the British in the 1770s. Dramatically overlooking the Atlantic Ocean, you can still view the original cannons, officers' barracks, gunpowder magazine and prison cells.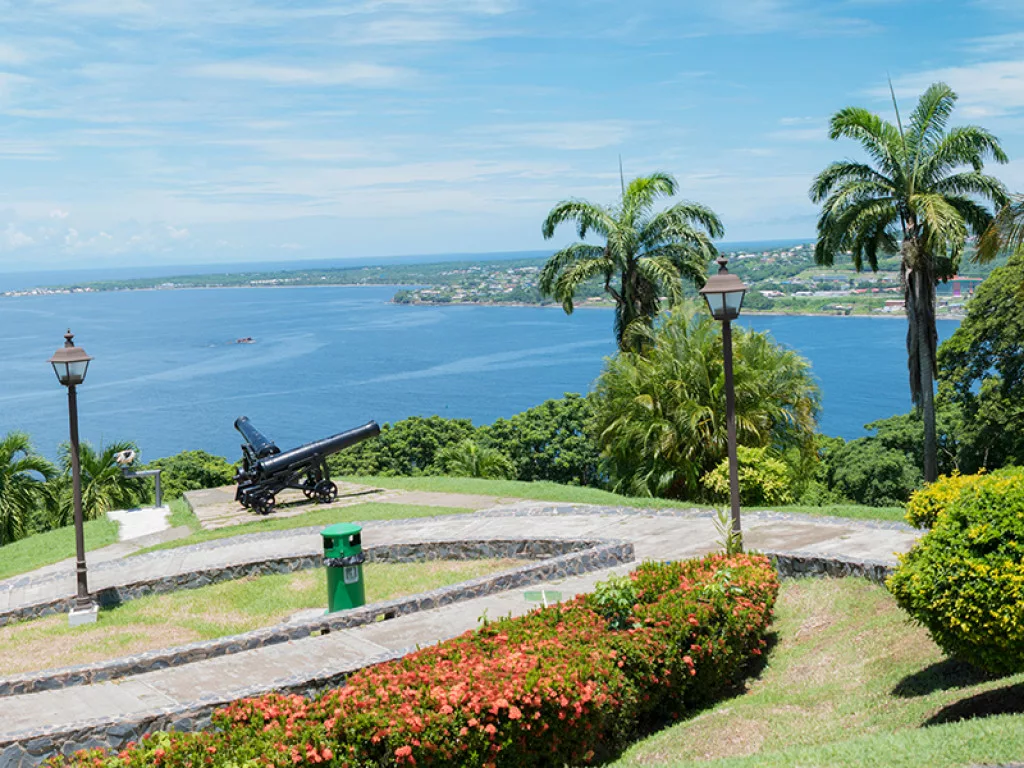 Pigeon Point Heritage Park
The island's most popular beach, this idyllic stretch of sand is home to the signature image of Tobago, with its iconic thatched-roof jetty. Expect clear, bath-like aquamarine waters home to protected coral reefs, and beachside cabanas, bars and restaurants a stone's throw away. An official heritage park, Pigeon Point is the embodiment of the Caribbean beach ideal.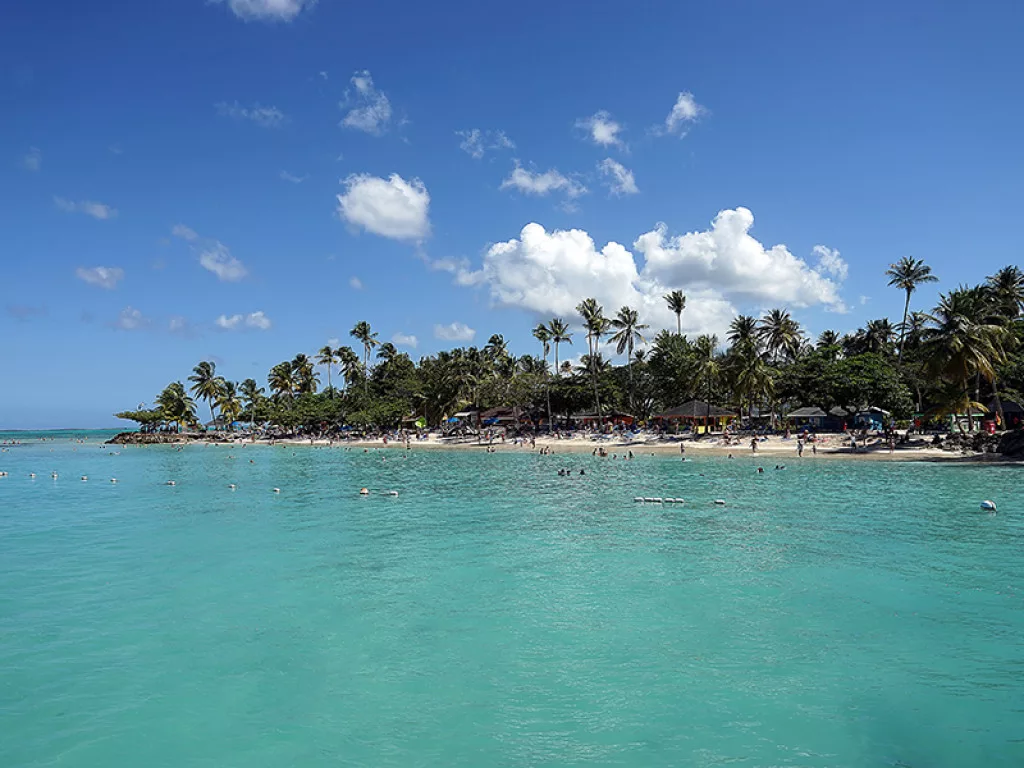 GETTING TO AND AROUND
If arriving by plane, several international flight services connect to Tobago at the A.N.R Robinson International Airport in Crown Point, including both British Airways and Caribbean Airlines. Another primary method of reaching the island is to fly to Trinidad's Piarco International Airport – which is better served by most major airlines – from where you can take a domestic shuttle service with Caribbean Airlines to connect to A.N.R Robinson International.
Travelling by water is a scenic way to reach Tobago. A fast ferry service is available from Trinidad's Port of Spain to arrive in Scarborough. Tickets can be purchased from the Trinidad and Tobago Inter-island Ferry Service website and the sailing duration is typically between two and a half to three hours.
After setting foot on Tobago, thanks to the island's compact size of approximately 300 square kilometres, everywhere on the island can be reached with no longer than an hour and a half drive. This means that hotel and airport pick-ups are typically included as part of your stay and all sites, amenities and attractions have relatively easy access.
If exploring the island independently, hired and local route taxis, maxi-taxis (minibus), car and bike rentals are all good options. If driving yourself, be prepared for poor road conditions in certain areas, and you will soon get accustomed to the fact that many locals use hand signals to indicate either turning or stopping. A public transportation bus service spans the entire island, just be aware of potential delays on Sundays.
Anyone spending time on Tobago for more than a few days will quickly become familiar with the island's winding roads, bays and bends, and it will soon start to feel like home.