The icon of Australian vacation destinations, the Gold Coast is emerging as a creative beacon with a growing emphasis on sustainable tourism flourishing hand in hand with a taste for luxury.
GOLD COAST
Queensland's Gold Coast has long been heralded as the nation's holiday capital – a playground of stunning beaches, piercing skyrise hotels and adrenaline-fuelled theme parks that line the city's northern coast.
While these star attractions remain a key part of the city's appeal, the Gold Coast is transforming into a destination that caters to wellness, luxury, and sustainable tourism – and perhaps most appealingly, the symbiosis of all three.
The jewel in the coastline's crown, the allure behind Surfers Paradise needs little explanation. This lively beach is the epicentre of the Gold Coast and a retail mecca, with world-class malls and bustling boutique markets showcasing an eclectic selection of Australian artisans and creators. Here you will encounter a thriving arts and culture scene best explored at HOTA, Home of the Arts, as a location that embodies the explosive cultural collision of art, entertainment, and lifestyle.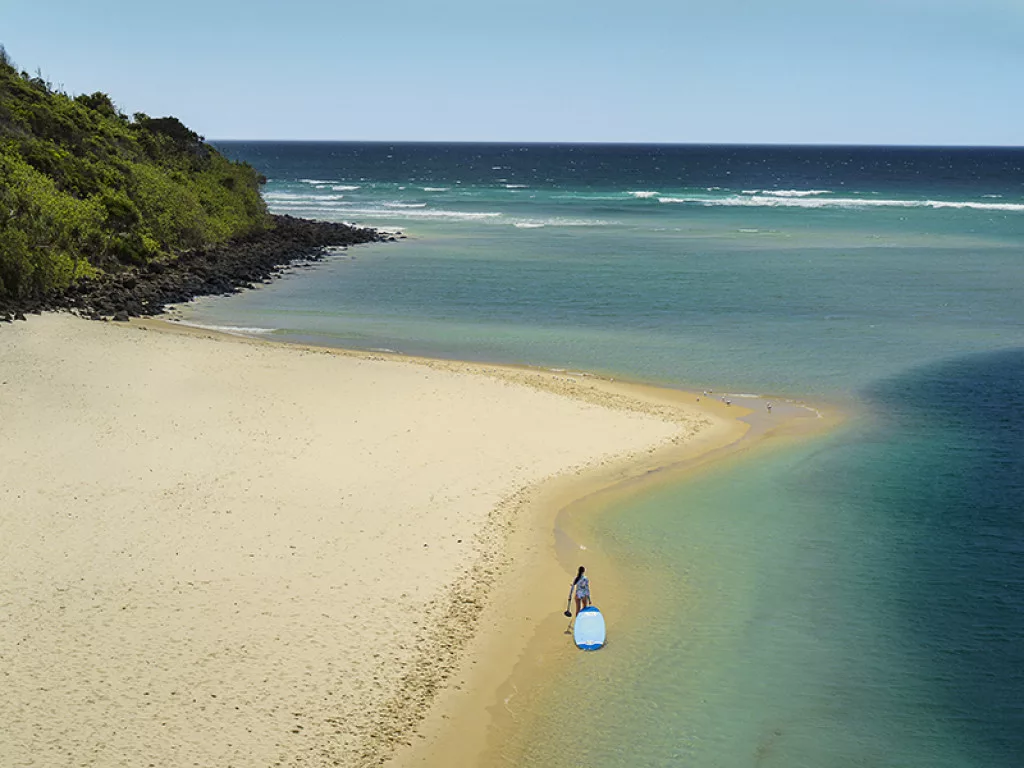 Step back from the Gold Coast's cosmopolitan city centre, and you will encounter the verdant, rolling hills of the hinterland, where mist-shrouded rainforests are a birdwatcher's paradise. Hike amongst national parks, hide away in rainforest retreats and savour fresh produce from local farms and vineyards. Whilst here, immerse yourself in the Indigenous history of these lands and the First Nations people of the Yugambeh with a visit to The Dreaming Mountain at Burleigh Heads. For wave-chasers in search of quieter beaches, cruise along to the Southern Gold Coast and revel in Australia's finest surf breaks at Currumbin, Kirra and Snapper Rocks.
Behind the Gold Coast's undeniable magnetism – whether for those with more metropolitan tastes or adventurers looking to explore the great outdoors – is a mouth-watering culinary scene catering to all manner of tastes, from laidback eateries to chef-hatted restaurants.
Still equipped with the family-friendly staples that earned its recognition as Australia's vacation capital, there are countless reasons to come and explore the diverse and rewarding holiday haven of the Gold Coast.
TOURISM INSIGHTS: DESTINATION GOLD COAST
Adrienne Readings, Chair of Destination Gold Coast, lends her expert insight into Australia's holiday capital
Firstly, could you outline the vision and mission behind Destination Gold Coast?
Adrienne Readings, Chair (AR): For over 50 years, the Gold Coast has been at the pinnacle of Australia's tourism industry where domestic and international travellers come to enjoy our famed laidback lifestyle, magnificent coastlines, beaches, and ancient rainforests all within a 45-minute drive radius.
In alignment with growing consumer interest, we are also seeing our region unfold as a destination for wellness, dining, luxury travel and solo escapes, all of which are exciting additions to our coastal city. We strive every day to make the Gold Coast the premier tourism destination for leisure, business, events, friends and family – and leave all visitors with a thirst to come back time and again.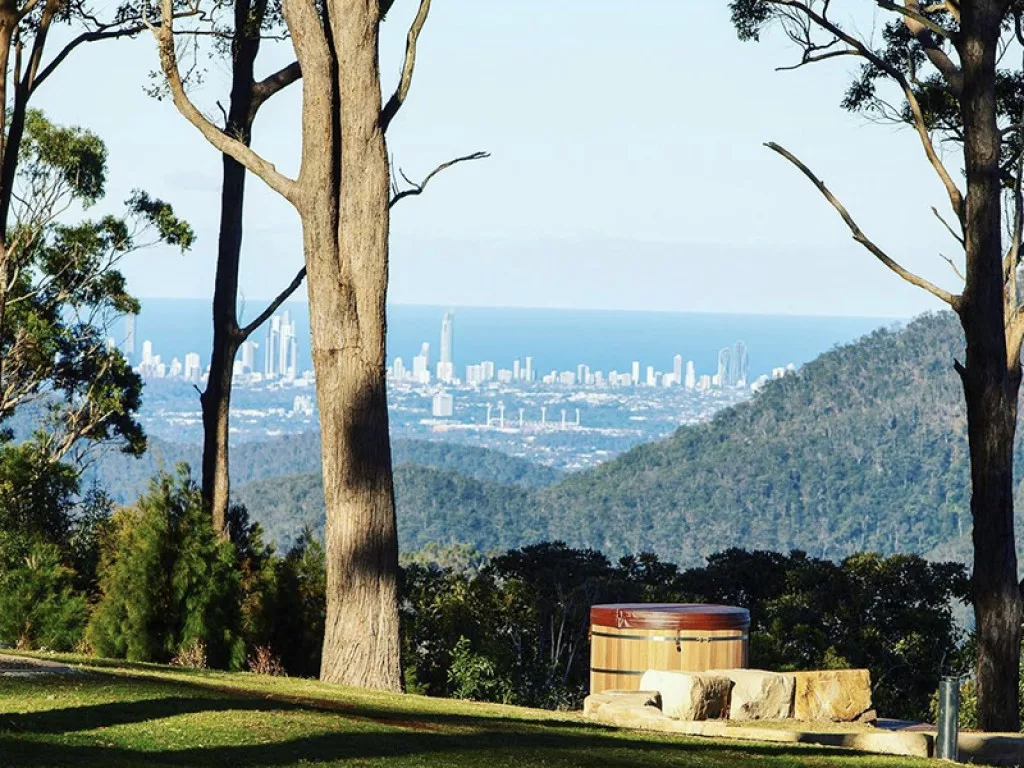 What kind of travellers does the region appeal to most?
AR: It's certainly no secret that the Gold Coast has long been considered a high energy entertainment family destination with the family market being the foundation of our region's success. And why wouldn't it be with our abundance of kid-friendly entertainment and upcoming developments like the Wizard of Oz Precinct at Movie World set for completion in 2024? But with more than AUD$1 billion in new infrastructure and product development over the past three years – including an AUD$500 million expansion of our airport – we are starting to see a younger and more mature demographic emerge seeking luxury travel and wellness experiences. The newly opened Langham Gold Coast is just the beginning of what will be some exciting new luxury hotel offerings across our city over the next three to four years including the Mondrian, Ritz Carlton, The W and St Regis.
How does tourism in the Gold Coast cater to sustainable or eco-friendly travel experiences? Are there any ongoing efforts or initiatives that you would like to highlight in this area?
AR: The Gold Coast is proud to be home to several sustainable and eco-friendly travel experiences from accommodation and dining to tourism and wellness experiences, Gwinganna Lifestyle Retreat, our award-winning eco-tourism certified retreat located in the rolling hills of Tallebudgera Valley, offers guests the opportunity to reconnect, restore and nourish their mind, body, and soul. They do this with the incorporation of wholefoods, a core component of their culinary offering, and wellness modalities that enhance well-being and peace of mind. They are also registered with Land for Wildlife, a programme committed to protecting wildlife habitat on the property. Lastly, Currumbin Wildlife Sanctuary, our not-for-profit ecotourism experience focusing on conservation and educational programmes, is home to Currumbin Wildlife Hospital, a vital resource for the rehabilitation and rescue of Australian wildlife with an admission of over 14,000 animals including 500 koalas.
What can travellers in search of luxury expect from the Gold Coast?
AR: The Gold Coast has transformed over the years into a mecca of luxury experiences designed for the discerning traveller. From our emerging culinary scene with 24 chef-hatted restaurants to our 5-star accommodation, the Gold Coast is fast becoming renowned for its approachable luxury. A recent addition to our accommodation offering and a perfect example of approachable luxury is Verandah House Country Estate in Tamborine Mountain, a 5-star country-style property with breathtaking views of the skyline reaching as far as Mount Warning. As for dining experiences, some of our chef hatted restaurants include Paddock Restaurant at Beechmont Estate, Nineteen at the Star, Rick Shores, The North Room, T'ang Court, Kiyomi, Social Eating House and Citrique.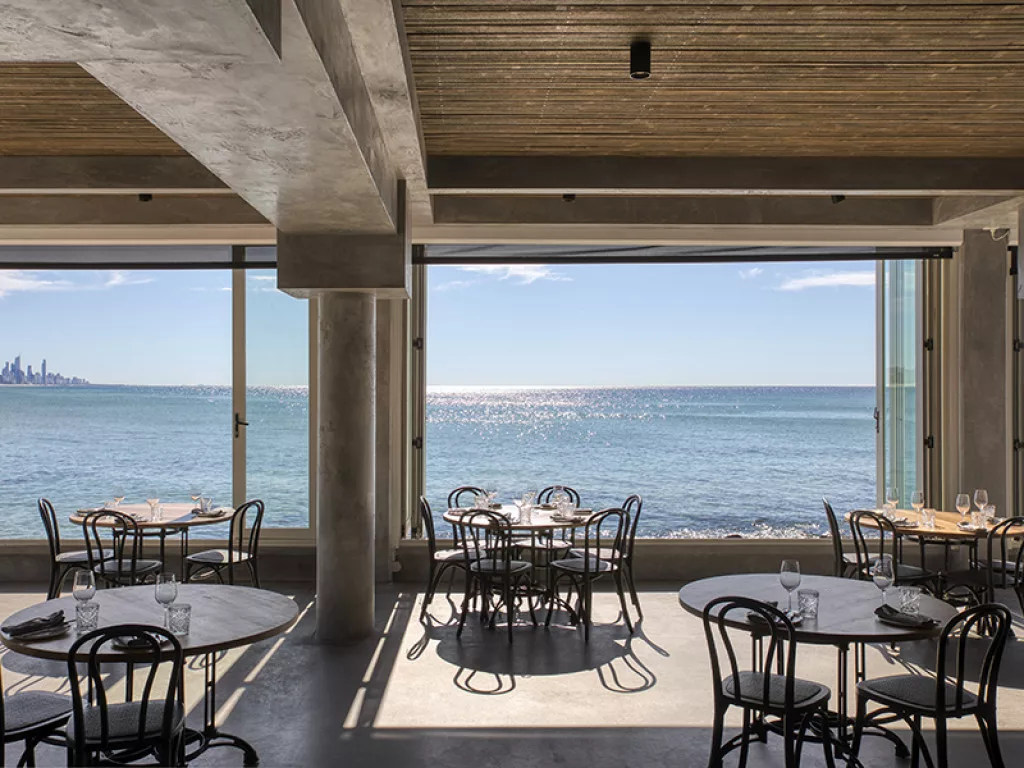 How do you navigate promoting tourism whilst also respecting the traditional custodians of the land? Does the region have much to offer in terms of authentic and responsible Indigenous tourism?
AR: Destination Gold Coast acknowledges the traditional custodians of the land in which we are situated, the Kombumerri families of the Yugambeh language region. We pay our respects to their elders past, present and emerging, and recognise their continuing connections to the lands, waters, and their extended communities throughout Southeast Queensland. We are grateful to have a wonderful collection of Indigenous tourism offerings including Jellurgal Aboriginal Cultural Centre, an immersive Indigenous experience and introduction to First Nations culture that takes guests on a journey through Dreaming Mountain (Burleigh Headland). We also have Spirits of the Red Sand, an Indigenous live theatre and dining experience transporting guests beyond Dreamtime to the 1800s. Lastly, Currumbin Wildlife Sanctuary has an Aboriginal Cultural Show where guests will enjoy entertainment and uncover ancient knowledge through traditional song, dance, and stories.
Have you noticed any new tourism trends emerge in the wake of the COVID-19 pandemic?
AR: In the international space, we are seeing travellers looking for that unique holiday, and they are willing to take longer holidays to ensure they tick every box, having spent the best part of three years unable to travel. The Gold Coast is perfectly placed to deliver on this. Travellers of all types are also now more than ever seeking to "travel for good'', so sustainability has dramatically risen towards the top of their wish list.
What are some of your key priorities for the year ahead?
AR: Our purpose for the Gold Coast is to be Australia's premier tourism destination as we continue to rebuild, restore access, and focus our attention on inclusive travel, particularly with 2023 being the Year of Accessible Tourism for Queensland. We are also seeking ways to enhance our ecotourism offering and sustainability efforts, and look forward to the journey ahead in achieving our goals and objectives within this space. We are also committed to growing our conference and incentive sector to attract more visitation.
Finally, what makes 2023 the year to visit the Gold Coast?
AR: The Gold Coast is continually evolving with new infrastructure, tourism, and dining experiences. With each year comes exciting new developments and additions to our city and in the last two years alone, more than AUD$1 billion has been invested by the private and public sector which has significantly transformed our destination for both residents and visitors. From the addition of Wonder Reef, a world first buoyant reef soaring 22 metres (m) above the sea floor to the AUD$500 million investment towards our international Gold Coast airport, we embrace our renowned reputation as Australia's favourite playground and look forward to welcoming our international guests in 2023 and beyond.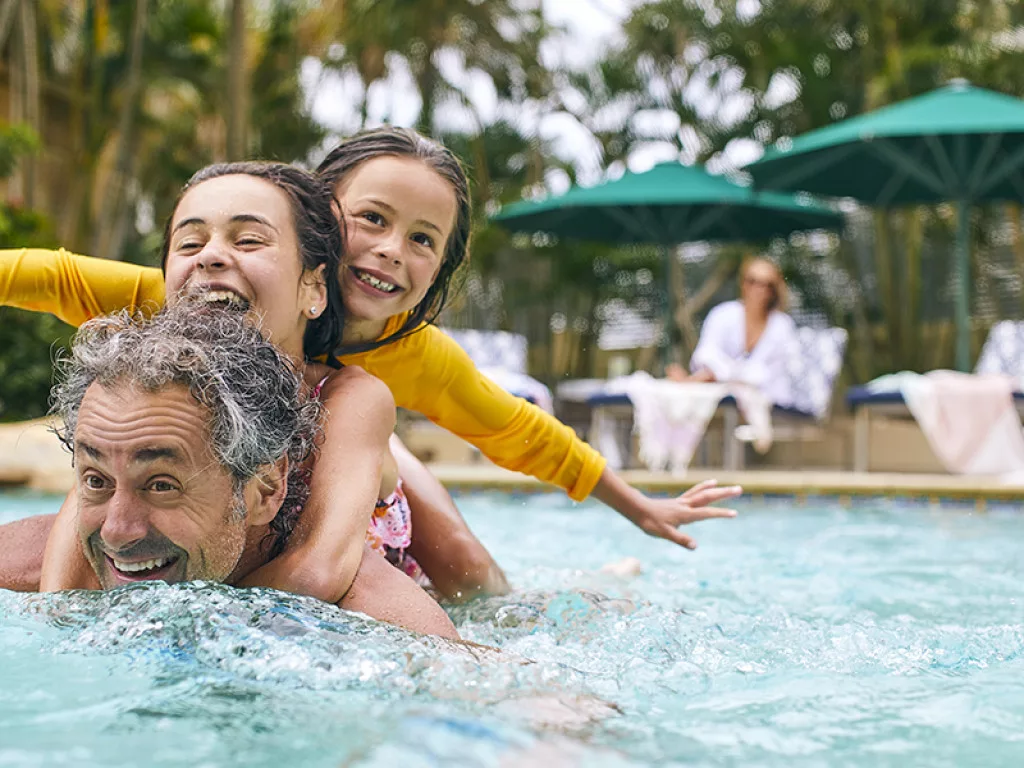 OUTLOOK RECOMMENDS
DO:
For industry-leading sustainability efforts…
For a stylish stay on Broadbeach Island…
The Dorsett Gold Coast is a beachside resort that embodies the Gold Coast's reputation as a centre for world-class entertainment and leisure. Strategically situated in a prime location just 30 minutes from the Gold Coast Airport and 700 metres from Kurrawa Beach, the hotel strikes a balance between the escapism of a beachside vacation and cosmopolitan convenience with direct access to the Gold Coast's best attractions. Expect a host of modern amenities geared towards your comfort, indulge in on-site dining at the Jin Café & Bar, and head to the hotel's rooftop to unwind at the Isoletto Pool Club for unparalleled panoramic views of the Gold Coast skyline.
For a beachfront stay with quality cuisine…
Located on the palm-tree strewn stretch of Cabarita Beach, the interior of Halcyon House is equally picturesque as Australia's most Instagrammable hotel. One of the country's best surf breaks can be found right on your doorstep, while foodies will rejoice at the on-site award-winning hatted restaurant, Paper Daisy, where cuisine is expertly crafted with local ingredients.
For Parisian chic meets Australian coastal cool…
For romantic dinner cruises…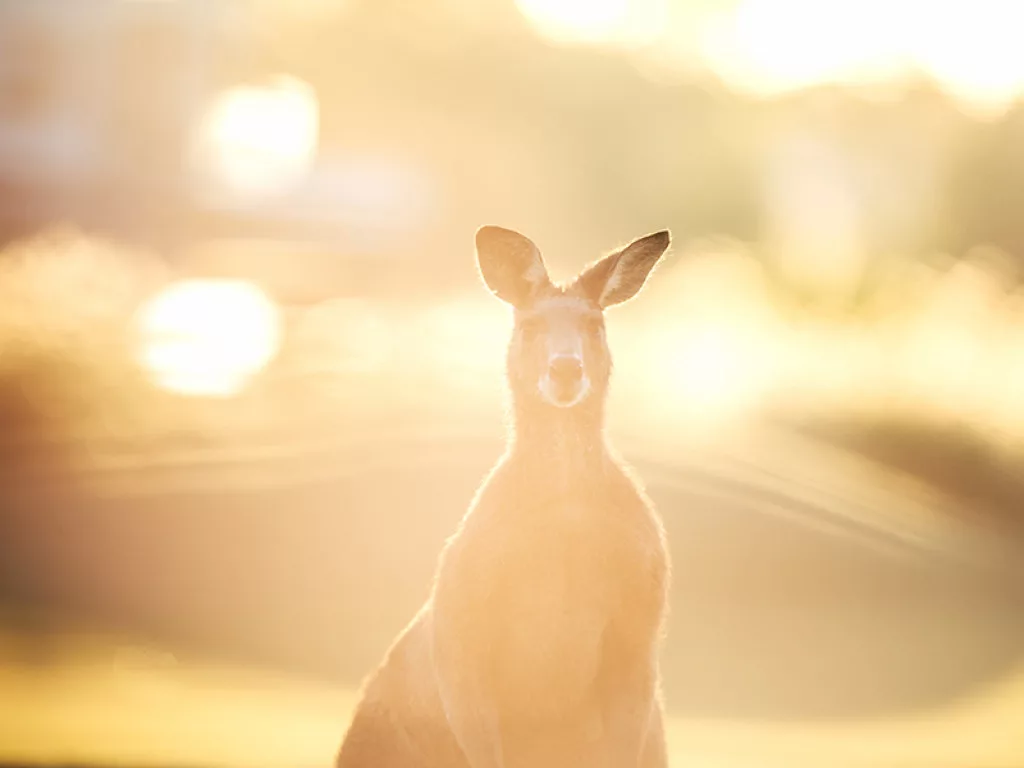 TRADITIONAL TOURISM IN FOCUS
Whether along its stunning coastline or in its lush hinterland, the Gold Coast is blessed with natural attractions that have long drawn visitors to the area. Although the iconic beach of Surfers Paradise is arguably its most emblematic natural draw, the Gold Coast's subtropical hinterland is home to lush rainforest and magical waterfalls, offering the opportunity to experience true nature just a 45-minute drive away from the city centre.
Fondly known as 'the green behind the gold', the area can be enjoyed in the oasis of Tamborine National Park. Here, you can immerse yourself in the great outdoors and admire views across to the Gold Coast skyline, and perhaps even spot a wild platypus at Curtis Falls. Other captivating flora and fauna include the rare Albert's lyrebird and towering, large red cedar trees. Elsewhere, Springbrook National Park hosts 'The Best of All Lookouts', for some jaw-dropping views that can be reached after trekking through a woodland of ancient Antarctic beech trees. For those keen to experience an encounter with local wildlife, the Currumbin Wildlife Sanctuary is a must-visit, with the opportunity to feed kangaroos and cuddle koalas within almost 30 hectares of natural rainforest.
Combine your interest in nature with rewarding insight into the Indigenous culture that lies at the heart of these lands. Indeed, the hinterland is the ideal place to connect with the traditional owners of this slice of Australia, the Yugambeh people. Burleigh Head National Park (The Dreaming Mountain) is another scenic natural reserve, whose formation is attributed by the local Kombumerri clan to a creation spirit named Jabreen. Be sure to pay a visit to the Aboriginal cultural centre nearby to explore a host of artefacts and book on to a variety of authentic Indigenous tours.
Back on the coast, bath-like waters, consistent surf, and adrenaline-inducing point breaks have cemented the Gold Coast's status as a legendary surfer's dream for decades, with some of the best spots including Burleigh Heads, Kirra Beach, Snapper Rocks, and of course, the appropriately named Surfers Paradise.
In recognition of the natural splendour of the area, tourism across the Gold Coast is undergoing a sustainable transformation with a growing choice of Ecotourism-certified retreats, such as the renowned wellness escape, Gwinganna Lifestyle Retreat. Initiatives such as this embody the marriage between personal well-being, and a respect for the land and its produce – something that is continuing to develop as a hallmark of tourism across Queensland. This Ecotourism-certified retreat has recently introduced three new wellness suites, designed to provide a heightened level of personal restoration. Gwinganna also stands out as one of just two places across Australia where you can experience a Somadome – the world's first tech-enabled private meditation pod.
GETTING TO AND AROUND
Travelling around the Gold Coast could not be simpler, with great accessibility and connectivity throughout the region. You can reach the city directly by flying into Gold Coast Airport in Bilinga – just 20 kilometres (km) from Surfers Paradise. The airport is extremely well connected with domestic flights from the rest of mainland Australia, and international flights from New Zealand, Asia and further afield. After touching base here, an extensive selection of ground transport awaits to access your onwards destination. Alternatively, Brisbane International Airport (BNE) is just 80km from the city. Hop on board the Brisbane Airtrain as the sole rail service operating between the city and the Gold Coast, which is highly regarded as the preferred method of transport from Brisbane Airport.
For budget-conscious travellers, the best of the Gold Coast is easily explored using public transport. A 'go explore' card is a fantastic option for a day of sightseeing, offering unlimited access to bus and tram travel operated by TransLink Gold Coast. This will connect you with all the major attractions, beaches, theme parks, and offers an airport express bus service. If you would prefer to sightsee from the water, there are a host of hop-on-hop-off ferry services for daily tours departing from iconic locations such as Surfers Paradise and HOTA.
Elsewhere, you will find everything from high-end charter boats, to pedicabs and bike rentals. Of course, for ultimate freedom, car hire is another fantastic option – after all, what could be better than cruising down the golden coast at your leisure in a convertible?