Dubrovnik, the Croatian city, is a vision of winding streets and eclectic architecture, encircled by fortified walls and bordering the Adriatic Sea.
DUBROVNIK
---
"Those who seek paradise on earth should come to Dubrovnik" George Bernard Shaw once said. Today, this Croatian city is the most popular destination on the Adriatic coast, and it's easy to see why. The fortified walls of the Old Town hold a labyrinth of architectural treasures, from gothic palaces to cloistered monasteries. Dubrovnik has recently risen to fame as the site of King's Landing in the popular series Game of Thrones – you can take a walking tour to see the filming locations for yourself.
Beyond the walls lies the cobalt shimmer of the Adriatic. White yachts bob in the harbour. After a day of sightseeing you can cool off in the calm waters of Banje Beach, close to the Old Town. The sea around Dubrovnik is scattered with islands. The closest, Lokrum, can be reached by sea kayak or a 15-minute taxi boat from Old Town Harbour. Slightly further afield is Korčula, a picturesque island of whitewashed villages, turquoise coves and vineyards producing local wine – it's believed to be the birthplace of explorer Marco Polo.
Dubrovnik also has an up-and-coming dining scene. Dynamic chefs are beginning to champion the cuisine of the Dalmatian Coast, and use some of the fantastic local seafood, meat and artisan cheeses in their dishes. The nearby Pelješac Peninsula is a renowned wine-growing region – visit a local vineyard for a tasting.
All in all, Dubrovnik offers up the perfect ingredients for a romantic city break: compelling architecture, excellent restaurants, and fantastic sea views.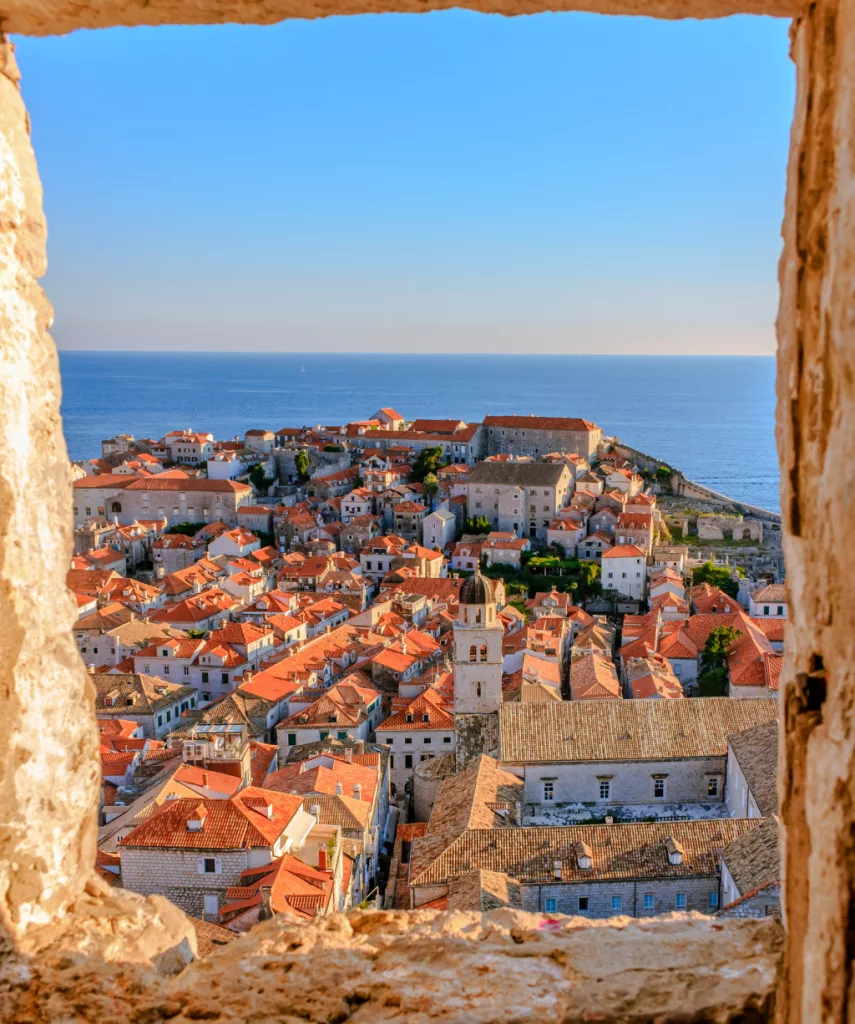 DUBROVNIK'S OLD TOWN IN FOCUS
---
Dubrovnik's Old Town occupies a promontory jutting out into the Adriatic and is surrounded by 1.5-metre-thick walls. This fortified city has weathered a few storms, the most recent being a shelling from the Yugoslav People's Army, in 1991. Although damage was caused, the city quickly recovered. A trip to Dubrovnik's UNESCO-designated Old Town is top of the list for tourists visiting Croatia.
The Old Town can be entered through either Pile or Ploče Gate. They're connected by Stradun, the main thoroughfare through Old Town. The street is made of polished marble, and is lined with al fresco cafés, timeworn mansions and restaurants.
There's a lot to see in the Old Town – cloistered monasteries, renaissance palaces and Gothic churches. The Rector's Palace and the Franciscan Monastery are two of Old Town's greatest treasures – make sure you check out the offbeat Pharmacy Museum within the monastery complex. Another popular activity is a stroll around the top of the city walls, where you'll be treated to dreamy ocean views.
TOURISM INSIGHTS: DUBROVNIK TOURISM BOARD
---
The Dubrovnik Tourist Board represents the city of Dubrovnik, the towns Rijeka dubrovačka, Zaton, Orašac, Trsteno and Brsečine, as well as the islands of Lokrum, Koločep, Lopud and Šipan. They have recently appointed a new Managing Director, Ana Hrnić. We interviewed her to find out more about the organisation's vision and goals.
Q&A WITH ANA HRNÍC, MANAGING DIRECTOR, DUBROVNIK TOURISM BOARD
What are your organisation's current goals?
Ana Hrnić: The goal of the Dubrovnik Tourist Board is to encourage, improve and promote the organisation of cultural, artistic, economic and sporting events that contribute to the enrichment of the tourist attractions of the city. One of its main goals is to encourage and organise actions that preserve and protect the tourist environment in the city, as well as to assist in the development of tourism at those sites that belong to the municipalities or city but are still not touristically developed. We also promote off-season travel by organising different events with the Croatian National Tourism Board and the county tourist board, including presentations and social network campaigns. The other goal of the Dubrovnik Tourist Board is to collect and process data on the number of guests visiting Dubrovnik on a daily, weekly and monthly basis.
Why, in your opinion, should someone visit Dubrovnik?
History is alive in every part of this city – as a museum city and at the same time a live stage, it represents the perfect intersection between the past and the present. Every nook and cranny of this Pearl of the Adriatic, as it is known, hides a treasure. Dubrovnik is surrounded by 1940 metres of unique medieval ramparts preserved in their original form, and open to visitors as the city's flagship attraction. Protected by UNESCO World Heritage status since 1979, Dubrovnik can boast one of the first such listings in Croatia. Its rich history, geographic location, mild climate and traditional hospitality and excellence in tourism make Dubrovnik a recognised high quality product on the international tourism market. Dubrovnik is Croatia's undisputed convention centre with more conventions, congresses and corporate incentive programmes in this segment of tourism than any other location in the country. The city is a cultural destination, as shown by its many festivals, prestigious art happenings, major open-air events, excellent artists and athletes, and, last but not least, its architectural treasures. We also have some interesting projects in the pipeline that tourists will enjoy experiencing – the Good Food Festival and Dubrovnik Winter Festival. Dubrovnik really is a city for all seasons.
What are some of the most romantic spots in the area?
Dubrovnik's most recognisable features, defining both its history and appearance, are the intact city walls with five fortresses offering an unforgettable view over the city, the island of Lokrum and the open sea. If you set out to explore Dubrovnik's vicinity by sea, you will be enraptured by the beauty of its islands. Dubrovnik is not built in a way to be admired from the car or coach. The Old City is a place for pedestrians. Every spot and hidden corner has its own unique flavor, which will give you a memory to keep. The cable car offers a panoramic view of Dubrovnik. Glide through the air on a scenic adventure – the ride will give you a breathtaking view of the old town of Dubrovnik, coastal sights with islands and magnificent sunset.
What trends are transforming the tourism industry in Dubrovnik and how are you utilising them?
Dubrovnik is getting more and more well-known as King's Landing from Game of Thrones. Although we don't have statistics of the number of tourists visiting the city because of this, what we can tell you is that many more younger people are visiting the city – and nothing much has changed in terms of infrastructure since Game of Thrones was filmed here. The primary positive effect is on the economy, for the studio hired local companies, team members and extras to work with the production. There are also direct tourism impacts, including more arrivals and overnight stays, while restaurants, bars and car companies have also profited. Some travel agencies offer Game of Thrones city tours, which are extremely popular.
What challenges does the tourist industry in Dubrovnik face?
For any challenge that Dubrovnik faces, the city of Dubrovnik has the 'Respect the City' project, a multidisciplinary strategic destination management project with an action plan geared towards a sustainable future for the city. It is comprised of a set of short-term, medium-term and long-term measures and activities that will enable Dubrovnik to take a leading role in sustainable and responsible tourism in the Mediterranean.
OUTLOOK RECOMMENDS
EAT:
---
For fresh, seasonal local cuisine…
For innovative seafood street fare…
SLEEP:
---
For boutique luxury and sea views…
Hotel More is a five-star boutique hotel, located on the shores of Dubrovnik's peaceful Lapad Bay. Stay in light-filled rooms with beautiful sea views. Soak up the sun at the outdoor pool, or Mediterranean seafood dishes on the terrace of restaurant More. Come evening, head to the atmospheric underground bar, located in a natural cave under the hotel.
For palatial rooms in the old town…
DO:
---
For Game of Thrones tours…
For luxury cruises to the Elaphite Islands…
LANDMARK ATTRACTIONS
LOVE STORIES MUSEUM
---
This heart-warming museum is a monument to love, with exhibitions on the tales behind popular love songs and the romantic myths of Dubrovnik. It also displays objects of sentimental value donated from visitors – such as a coffee mug that helped start a long-distance relationship – and tells the stories behind them.
LOKRUM ISLAND
---
According to local legend, Lokrum Island was cursed by Benedictine monks who were expelled from its shores – these days, its only inhabitants are peacocks. There are plenty of interesting attractions on the island: a botanical garden, a saltwater lagoon, and the Game of Thrones centre, where you can sit on the iron throne.
MOUNT SRD
---
For the best views in Dubrovnik, hike or take a cable car ride up to the top of Srđ, a 412-metre high hill just outside of Dubrovnik's Old Town. You'll have a bird's eye view of the harbour, the fortified city and the sea beyond it. On the summit, there's a restaurant and a war museum.
GETTING THERE AND AROUND
---
Dubrovnik International Airport is the third busiest in Croatia (behind Split and Zagreb). It has direct scheduled flights to 72 destinations in 26 countries, most of which are in Europe. There are also three domestic flights to Split, Zagreb and Pula, operated by Croatia Airlines. Dubrovnik is easily reached from the airport by bus or taxi.
It's easy to get around within the city too. The Old Town is pedestrianised, with attractions located within walking distance of each other. Dubrovnik has an excellent bus system, with many nearby tourist destinations serviced by public transport. It's only worth hiring a car if you're planning on travelling much further afield.
If you're looking to travel to Dubrovnik's islands, head to the Old Town Harbour, where you'll find yachts, catamarans and small ferries departing to Lokrum Island and beyond.